Organisers of the Singapore Airshow 2022 expect far fewer attendees compared to 2020, but they remain confident this year's event will attract "high quality" visitors.
Experia Events, the organiser of the biennial event, expects around 13,000 trade attendees at this year's show, a significant dip from the 30,000 visitors who came in 2020.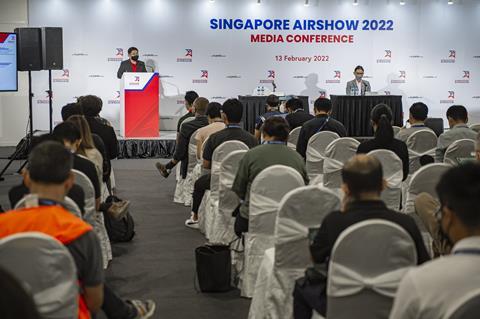 In a first, there will also be no public days in this year's edition, as part of efforts to control the spread of Covid-19.
The number of exhibitors has also fallen by a third — around 600 this year, compared with 900 in the 2020 show.
At a media briefing on 13 February, Experia Events managing director Leck Chet Lam said the fall in numbers "in this current environment" was to be expected.
"[As] far as quality is concerned, I'm not worried about that, because here we have assembled a high quality set of exhibitors, more than 70% of the top 20 global aerospace companies are here. We also got high quality trade visitors…the congregation of the right people are here…[and] the conversations will be as good, if not better," said Leck.
Key exhibitors at the show — the largest in-person event to be held in Singapore since the pandemic struck in 2020 — include Boeing, Airbus, Lockheed Martin, as well as Singapore-headquartered ST Engineering.
This year's edition comes as the Asia-Pacific region emerges from a long-drawn battle with the coronavirus pandemic, with borders gradually reopening in several countries, and international travel slowly restarting.
In Singapore, the aerospace industry is also seeing the first signs of recovery, with several players beginning to hire workers.
Lim Tse Yong, vice president at Singapore's Economic Development Board, says the sector is "turning a corner". The government agency's data reveals that the country's aerospace industry has seen a steady rise in manufacturing output since April 2021.
By December 2021, and against 2020's lower base, Lim says the sector reported 60% year-on-year growth.
Lim reiterated the Singapore government's commitment to the sector, stating that it will continue to invest in infrastructure, provide wage support, as well as support training for future talent.