ST Engineering is to create the world's first Boeing 757 firefighting aircraft through the conversion of a passenger jet, with service entry expected within two years.
The company is partnering with USA-based Galactic Holdings – an operator of firefighting tankers – on the programme, with conversion work to take place at ST Engineering's US facilities.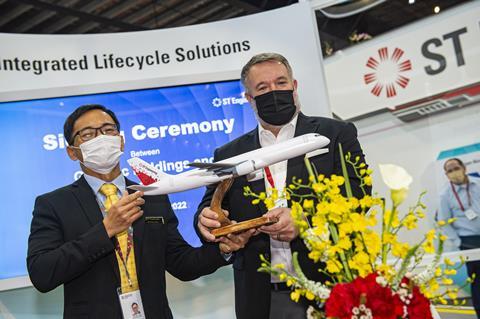 Speaking after a signing ceremony at the Singapore air show, Leon Tan, senior programme manager for the 757 conversion project, says the first jet "will be acquired from a passenger fleet".
ST Engineering is targeting service entry in 2024, after it gains supplemental type certification, and expects to convert up to 15 examples for Galactic. Each aircraft can carry two retardant tanks, with total capacity of 7,000 gallons (31,800 litres).
Tan adds that the decision to modify the 757 for firefighting operations comes as existing platforms age and are "in need of replacement". Operating the 757 is more fuel efficient – compared with older aircraft – and can be deployed to a range of locations for firefighting missions, says ST Engineering.
While the 757 tanker will be operated in the USA, Tan says ST Engineering is also looking at marketing the aircraft to operators in Australia, where wildfires are a perennial issue.
ST Engineering will also perform MRO work on the fleet of 757 firefighting tankers when they enter service.