Airbus and the Civil Aviation Authority of Singapore (CAAS) have signed a memorandum of understanding to explore urban air mobility solutions in Singapore.
As part of the agreement, Airbus and CAAS will work together on developing urban air mobility services using unmanned aircraft systems (UAS).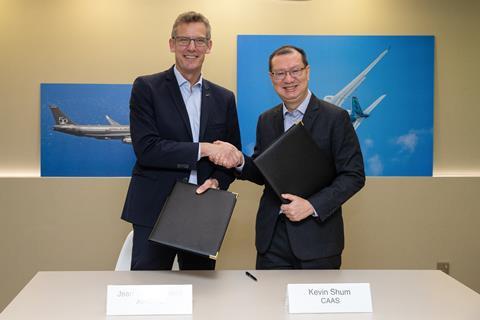 "The parties will specifically work together to realise the unmanned traffic management system and services to support the initial use-case," says Airbus.
Both parties will also study the feasibility and requirements for further urban air mobility services, including cargo and passenger transportation solutions.
"The collaboration aims to bring UAM services and platforms to reality in Singapore's urban environment, with the target to enhance industry productivity and improve the country's regional connectivity," the airframer states.
Airbus and CAAS have earlier collaborated in 2016 to establish proof-of-concept trials – under Airbus Skyways – for unmanned air systems.
In 2019, the trials concluded, with the delivery of parcels within the National University of Singapore campus, as well as the delivery of 3D-printed parts and consumables to vessels anchored off Singapore.
Airbus states that the Skyways solution will be used as a test lab to look into future technologies and concepts focused on connectivity and navigation.
CAAS director-general Kevin Shum says: "CAAS supports the beneficial development of urban air mobility. It fits within [Singapore's] Smart Nation vision, where we aim to take full advantage of technology to solve problems, address challenges, and develop Singapore into one of the most outstanding cities in the world to live in."