Aviage Systems is known as the provider of avionics to Chinese airframer Comac's C919 narrowbody programme, but is intent on expanding its scope of business.
Speaking to FlightGlobal before the Singapore air show, Aviage chief executive George Chang says the company will continue its strategy of diversification, even while it continues to make strides in its core avionics business.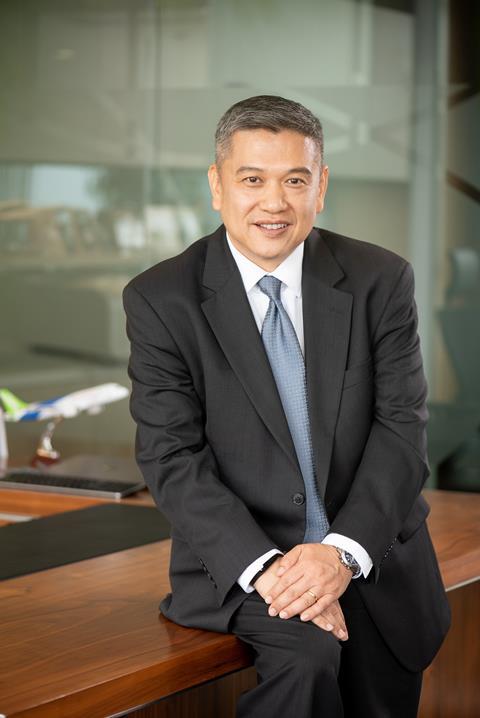 The Shanghai-based firm, a joint venture between General Electric and Chinese aircraft manufacturing giant AVIC, has identified three key growth areas in the short to medium term – avionics MRO, connectivity, as well as digital solutions.
For one, Aviage is working to getting certification from the US Federal Aviation Administration (FAA) for MRO work on the Boeing 787's avionics. It is already certificated by the Civil Aviation Administration of China for 787 avionics MRO, and in the longer term, on C919 avionics.
Chang says he is hopeful Aviage will secure FAA certification by this year.
"Ultimately, by the end of this year, we can extend our [avionics MRO] service to all our Asia-Pacific airline customers," Chang adds.
Aviage's plans to diversify the business have been ongoing for a while: in a 2018 interview with FlightGlobal, the company stated that diversification would allow it "to balance our revenue profile to ensure a long-term sustainable growth."
Still, Chang is cognisant of the potential challenges that could upend the company's growth strategy.
Talent acquisition is one. Chang says that because the avionics industry is a fairly niche sector, it is hard to find "strong expertise" in the area.
"The experienced avionics engineer that serves the civil aviation industry in China is somewhat limited," Chang says. He adds that "from a supply chain standpoint", there are also not many certified local partners it can work with in China.
To this end, Aviage is looking beyond China – and into the Asia-Pacific region – to attract talent. It is also looking to tap talent in "adjacent industries," and is keen to hire people with knowledge of artificial intelligence or machine learning.
It is also working with GE and Comac to groom local talent. The three aerospace companies have a talent development programme which will see their best employees embark on a rotational learning programme in each of the three companies.