Bell may have pulled out of the Singapore air show, but regional partner Subaru is still present, alongside their newest product, the 412EPX.
Tokyo in 2015 selected a joint Bell-Subaru bid of an upgraded model 412EPI to replace the UH-1Js operated by the Japan Air Self-Defence Force. These will be built by Subaru in Utsunomiya.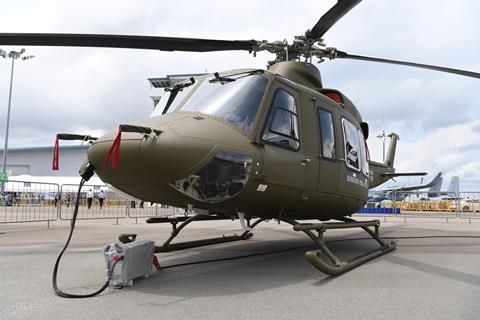 A first prototype of the New Utility Helicopter was handed over the Japanese ministry of defence in February 2019.
Meanwhile, the partners continue to promote the 412EPX to the civil market, following its certification in July 2018.
Subaru is already assembling the first customer aircraft, which is destined for Japan's national police service.
Bell will also build 412EPX helicopters at its facility in Mirabel near Montreal; the aircraft on the Singapore static display – the first of three production-standard examples – was assembled at the Canadian facility.
Production of the 412EPI will cease before mid-year as output switches to the newer model.
Upgrades over the EPI are mainly focused on the transmission and rotor mast, to which Subaru has made extensive contribution, allowing it to withstand higher torque loads.
The changes enable an increase in maximum take-off weight to 5,530kg (12,200lb) internally - almost 5,900kg with an external load – from 5,400kg previously.
Powered by twin 1,120shp (837kW) Pratt & Whitney Canada PT6-9 engines, the EPX also features the latest version of Bell's BasiX Pro avionics suite.