Italy's Blackshape may be small but it is already making waves with its Gabriel and ISP light aircraft, which are making their Singapore air show debuts on the static display.
Gabriel – designated the BK-160 – is a two-seat trainer with a maximum take-off weight (MTOW) of 850kg (1,870lb), designed for the "stick and rudder" elements of instruction, says Blackshape founder and chief executive Luciano Belviso.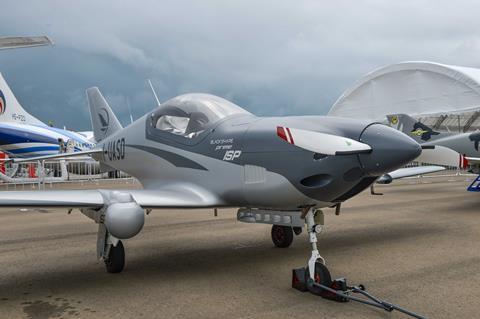 Gabriel was designed to fill a gap in the market created by a lack of purpose-built training aircraft: "The majority of aircraft were not designed as trainers – they became trainers because of availability," he says.
"The Gabriel is the first plane designed for training for several decades."
Powered by a single 160hp (120kW) Lycoming piston engine, the Gabriel is equipped with data-recording systems which turn the aircraft into "something like a flying laboratory", says Belviso, and allow better analysis of a trainee's performance.
European certification was obtained in 2017, and an MTOW increase was approved in 2019. Service entry also came last year, says Belviso, with both undisclosed civil and military customers.
The BK-100 ISP – or Intelligence and Surveillance Platform – is a lighter aircraft with a 600kg MTOW which is powered by a 100-115hp Rotax engine. It can carry a variety of electro-optical sensor payloads.
Both types are made of carbonfibre and feature glass cockpits and retractable landing gear.
Founded in 2010, Blackshape is based in Grottaglie in southern Italy and is owned by conglomerate Angel Group. It is sharing a stand at Singapore with its local distributor Asia Security Technology.