As Dassault pushes ahead with its Falcon 6X programme, the airframer has given a Singapore air show visitors a peek inside the long-range twin's spacious interior, bringing a cabin mock-up to the show.
Alongside the 6X - which is due to make its maiden sortie next year - the French airframer is also showing current models in its range, with the 8X and 2000LX in the static park.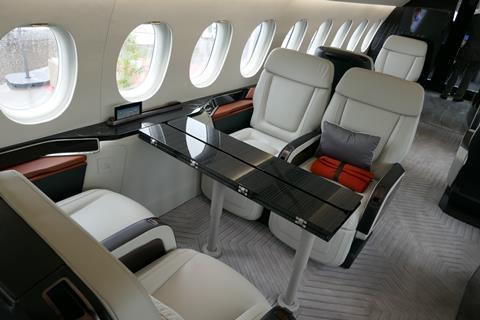 Thank to cancellations on the back of the coronavirus outbreak, Dassault is one of a small number of business jet exhibitors at the show.
Jean Michel Jacob, president of Dassault Aviation Asia Pacific civil aircraft, says that although the company has pared back its presence, its regional team remains on hand to meet customers.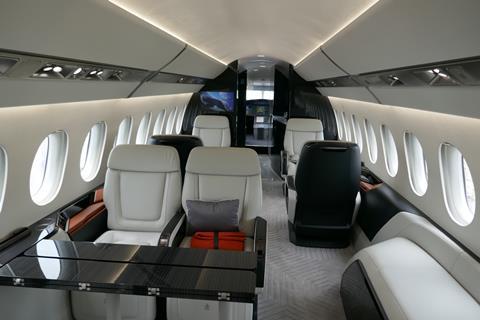 Jacob regards the show as the effective launch of the 6X in the region. The developmental type has attracted strong interest in Europe and North America, but has yet secure orders in Asia.
He expects ground tests to commence in 2020, followed by a first flight in 2021 and deliveries commencing in 2022.
Dassault claims that the 6X offers "the tallest and widest passenger cabin in business aviation."
The aircraft will be powered by a pair of Pratt & Whitney Canada PW812Ds. The 6X is a replacement for the 5X, a programme cancelled in late 2017 owing to problems with Safran's Silvercrest engine.
"We lost a few years but this is a better aircraft," says Jacob.
The 6X, capable of carrying 12 passengers, has an advertised range of 5,500nm, allowing flights from Europe to the US west coast. From Singapore, the aircraft will be able to reach cities such as Auckland, Johannesburg, Ankara and St. Petersburg.