Israel Aerospace Industries (IAI) has launched its Heron Mk II unmanned air vehicle with a full-scale mock-up in the Singapore air show static park.
Moshe Levy, IAI executive vice-president, stresses that Singapore and the wider region are key markets for the company, not least for sales of the medium-altitude, long-endurance UAV.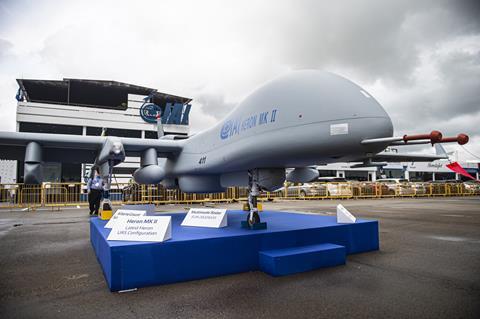 Levy says that although the Heron Mk II is highly configurable to meet customer requirements, it is optimised for the maritime surveillance role, potentially including the deployment of miniature sonobuoys.
With line-of-sight control, the aircraft has a mission radius of 199nm (350km), which rises to 540nm when used on beyond-line-of-site operations. Endurance is up to 45h, with a service ceiling of 35,000ft.
Singapore operates the original Heron, which achieved full operational capability clearance in 2017.