Aircraft lessor BBAM has ordered three 737-800 Boeing Converted Freighters, the US airframer has disclosed.
Three aircraft in the lessor's existing fleet will be converted, says Boeing. Cirium fleets data shows that BBAM manages 133 737-800s, as well as two 737-800BCFs operated by China Postal Airlines.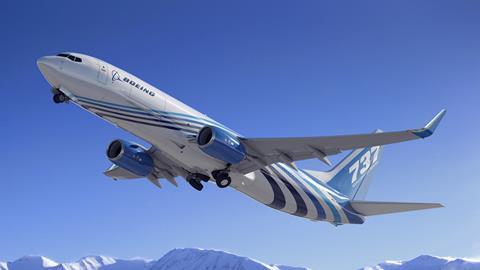 The lessor bills itself as "the only manager in the aircraft leasing industry focused exclusively on generating investment returns for third-party investors".
Chief executive Steve Zissis states that the 737-800 is "an integral part of BBAM's managed fleet of commercial passenger jet aircraft" and notes "strong interest from our customers in the standard-body freighter".
He adds: "We chose Boeing's conversion programme because we believe it maximises the platform's capability and reliability."
Boeing says the 737-800BCF, which entered service in 2018, has won a total of 130 orders and commitments.
In its Commercial Market Outlook forecast, which has a 20-year span, the airframer predicts demand for 2,820 freighters, including 1,220 standard-body passenger-to-freighter conversions.
It plans to add a 737-800BCF production line with GAMECO at Guangzhou in China later this year.
Cirium fleets data lists 19 in-service 737-800BCFs. Lessor GECAS manages 13 of them: five operated by Prime Air, four by West Atlantic, two by ASL Airlines Belgium and two by Atran.
Jetran manages two 737-800BCFs operated by Indian low-cost carrier SpiceJet. Tianjin Air Cargo operates one leased from SMBC Aviation Capital.
Air Algerie also has one of the converted freighters in service.