The new head of Boeing Global Services (BGS) faces the critically important task of keeping his business - which is key to Boeing's long-term strategy - on track and growing, despite the turmoil caused by the 737 Max grounding.
But with ambitious expansion plans sidelined, BGS chief executive Ted Colbert says his primary goal now is supporting the Max return to service.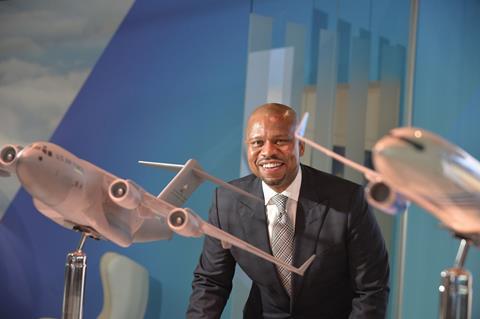 Colbert, an 11-year Boeing employee and veteran of Citigroup and Ford, became BGS chief executive in October 2019 when predecessor Stan Deal abruptly replaced Kevin McAllister as chief of Boeing Commercial Airplanes.
The shift was part of a management shake-up on the back of the Max grounding.
Colbert, previously Boeing's chief information officer and senior vice-president of information technology and data analytics, took over BGS several years after the airframer formed the division by meshing together various services units.
In announcing the creation of BGS in 2016, former Boeing CEO Dennis Muilenburg set BGS a goal to earn $50 billion in revenue within a decade – tripling its revenue at the time. Analysts have described BGS as a lynchpin to Boeing's wider strategy – a business that would generate cash to fund Boeing's next commercial aircraft development.
Colbert does not understate BGS's role. "We are absolutely key to the stability and growth of the company," he says.
Acquisitions were part of BGS's growth plan, with the business buying parts provider KLX and flight software company ForeFlight, for instance. Colbert says integration of those companies continues.
By 2019, BGS services revenue had hit $18.5 billion, some way off the $50 billion goal. Then came the Max grounding, which analysts have said will freezesupport income Boeing hoped to reap from the Max.
Colbert says the Max grounding has "absolutely impacted" BGS, though he expects demand for the unit's services will catch up. With the financial impact of the Max now hammering Boeing's bottom line – the company closed a $13 billion loan last month – BGS's acquisitions have stalled.
Colbert declines to comment on revenue growth goals. He says his focus remains on the Max, noting that BGS provides training services for Max pilots and parts packages and maintenance support for grounded aircraft.