PNG Air has become a launch customer for the short take-off and landing version of the ATR 42-600.
The Papua New Guinean airline will use ATR 42-600S twin-turboprops to replace part of its De Havilland Canada Q100 turboprop fleet.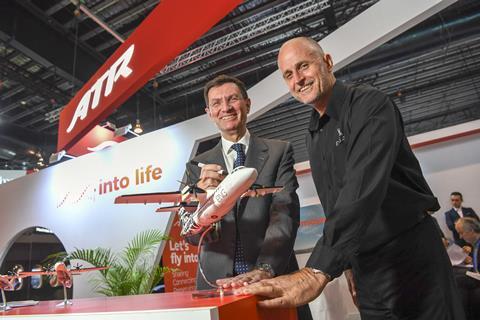 Fewer than 30 of the around 500 airstrips across the carrier's home nation are paved and of the appropriate length, says chief executive Paul Abbot, so the ATR 42-600S will allow it to serve new destinations.
He adds that the airline is considering selling and leasing back the ATRs, which are scheduled to arrive from 2022. PNG is, however, ruling out any aircraft larger than the ATR 72 as it wants to focus on the local market and the international charter services it operates.
Cirium fleets data shows that the airline now has eight in-service Q100s, with an average age of 33 years. The airline also has seven ATR 72-600s.
When ATR formally launched the STOL version in October, it said that deliveries were scheduled to begin in the second half of 2022.
The airframer has secured 20 commitments for the short take-off and landing version of the ATR 42-600. Besides the three with PNG Air, turboprop-leasing specialist Elix Aviation has committed itself to 10, and Air Tahiti to two. The customers for the other have not been identified.
The aircraft can operate 200nm (370km) missions with 40 passengers from 800m paved runways in standard meteorological conditions, as opposed to the 1,050m lower limit for the non-STOL variant.