Parts production for the Rolls-Royce UltraFan demonstrator engine is under way, with the propulsion specialist now manufacturing the powerplant's composite fan blades.
Boasting an eventual 355cm (140in) diameter - almost the size of a narrowbody fuselage – the components are being made at the company's technology hub in Bristol, UK.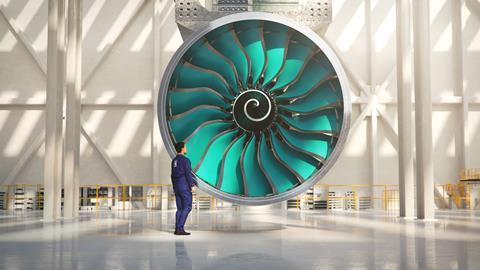 The fan blades are created through the build-up of hundreds of layers of carbonfibre, pre-filled with resin material. Heat and pressure are then applied, and each blade is finished with a thin titanium leading edge.
R-R promises that UltraFan will cut fuel consumption by 25% over the first generation of Trent engines.
Part of the efficiency improvement comes from UltraFan's composite fan blades and fan case, which reduce weight on a twin-engined aircraft by 700kg (1,540lb).
Chris Cholerton, R-R president – civil aerospace, says: "This is the decade of UltraFan and it's exciting to enter the 2020s with the start of production of the demonstrator engine.
"We have got all the building blocks in place, the design, the technologies, a brand-new testbed, and now we are actually seeing the engine come together."
UltraFan, which will start ground tests in 2021 and be available towards the end of this decade, is a scalable design from 25,000lb (112kN) thrust all the way up to 100,000lb.
The composite blades have already been extensively tested on an Advanced Low Pressure System development engine, including trials on the company's 747 flying testbed.