ST Engineering and maritime logistics provider Wilhelmsen Ships Service are teaming up to develop and trial shore-to-ship parcel deliveries in Singapore, using unmanned air vehicles on beyond visual line of sight (BVLOS) misisons.
Flight testing and technology development services for system integration and prototyping will be provided by ST Engineering.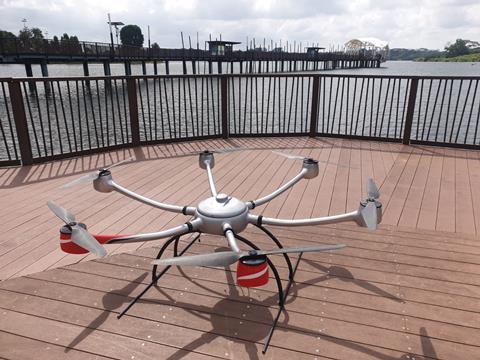 "Key enabling technologies to be developed include precision landing on-board a ship vessel's metallic platform, non line-of-sight datalink and parcel delivery authentication and release system," the company states.
Meanwhile, Wilhelmsen will support the commercialisation and operational aspects of the system.
The collaboration will receive funding from the Civil Aviation Authority of Singapore and Singapore's transport ministry. ST Engineering's DroNet system was granted the city state's first BVLOS operating permit.
Lim Serh Ghee, ST Engineering's aerospace unit president, says: "Our latest collaboration with [Wilhelmsen] is an exciting development for us as we explore the various use cases for our DroNet solution to solve real-world problems and help organisations enhance their operational efficiency.
Wilhelmsen has previously collaborated with Airbus's Skyways unit, in March 2019 trialling a shore-to-ship drone delivery service.