Airbus Helicopters has secured a six-unit order for H135 trainers from the Royal Thai Air Force (RTAF), while it also eyes further co-operation with the Malaysian military including a possible follow-on sale of the H225M.
Deliveries of the H135s will begin in 2021, with the RTAF to use them for a full range of instruction, including ab initio training. They are the first military training helicopters to be acquired by the service.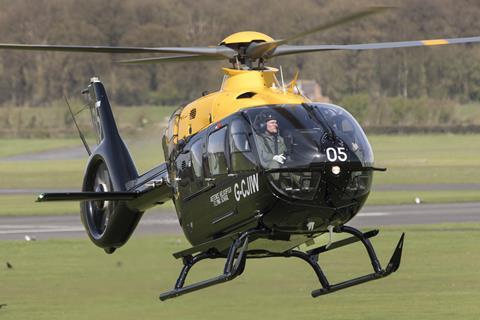 "We are extremely honoured by the Royal Thai Air Force's decision to expand its training fleet with the H135," says Fabrice Rochereau, vice-president, head of sales Asia-Pacific.
Bangkok has proved a strong customer in the region for Airbus Helicopters: the air force operates 12 H225Ms heavy-twins, and its army and navy are customers for the UH-72 Lakota and H145M, respectively.
Thailand joins other operators of H135 trainers including Australia, Germany and the UK.
Meanwhile, Airbus Helicopters is working to offer to the Royal Malaysian Air Force both short- and long-term solutions to replace its grounded fleet of 12 Sikorsky S-61A Nuri rotorcraft.
Malaysia already flies 12 H225Ms and Rocherau says it would be a "waste of taxpayers' money to go for anything else".
Vincent Dubrule, head of the Asia-Pacific region for Airbus Helicopters, says that acquisition of the H225M would be a "logical continuation" but acknowledges that Kuala Lumpur has a budget gap in the short term.
As a "temporary solution", the airframer is likely to propose the lease of repurposed oil and gas helicopters, says Dubrule.
These could be deployed relatively rapidly while Malaysia finalises a longer-term acquisition.
Oil and gas operators like Bristow Group are seeking buyers for their fleets of idle H225s which are out of favour in many offshore markets.
Airbus Helicopters is forecasting sales of 5,500 military helicopters from all manufacturers across the Asia-Pacific by all manufacturers over the next 20 years.
UPDATE: Story updated with information about sales forecast.