Aegean Airlines has posted a pre-tax loss of €34.8 million ($41 million) in the second quarter ended 30 June, narrowing from a loss of €88.5 million in the year-ago period.
Consolidated revenue during the quarter grew 169% to €109 million. Net losses came in at €33.9 million, down from losses of €73.4 million in the second quarter of 2020, the Greek carrier says in a release today.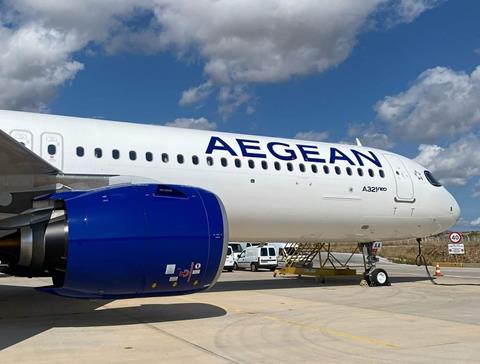 In the first-half period, consolidated revenue stood at nearly €153 million, 18% lower while net losses after tax stood at €78.4 million from a loss of €159 million recorded in the first half of 2020. Pre-tax loss was at €91.8 million versus a loss of €201 million in the year-ago period.
Cash and cash equivalents stood at €546 million as on 30 June, including the €60 million share capital increase completion but not including the EU approved State Aid which was received in early July.
The airline carried 1.65 million passengers in the first six months, down 33% year-on-year. Load factor stood at 53%, falling 20 percentage points. During the quarter, the group's activity was at 35% of 2019 activity in available seat-kilometres, being although significantly higher relative to 2020.
Chief executive Dimitris Gerogiannis states: "Since late May, following the easing of travel restrictions, air traffic showed signs of significant recovery. We achieved for the first-time positive cash flows for the quarter, after 18 months and got on track for a summer season closer to normal.
"The recovery in travel demand evidenced in the third quarter, especially towards Greece and our increased activity from several bases to important source markets, yielded a significant gain in passengers in July and August reaching 2.3 million passengers, as we have already announced a few days ago. We are moving forward with our investments in fleet, product and training, while being mindful of the significant challenges remaining ahead due to the pandemic."