Aegean Airlines incurred a net loss of €28.3 million ($33.6 million) in the third quarter, and expects to operate less than 20% of the last winter's capacity in the coming months.
The Greek carrier, which is in line to receive up to €120 million in state support as part of a wider capital increase, says it operated 49% fewer flights in the third quarter than in the same period last year. Passenger traffic was down 62% and load factor fell to 65.7% from 87.7%.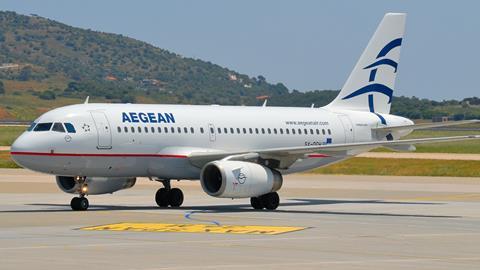 Revenue declined 70% to €155 million. For the nine-month period ended 30 September, Aegean reported a €187 million net loss, compared with a €77 million net profit a year earlier.
"For the winter 2020/21 season, the second wave of the pandemic, renewed travel restrictions and, recently, lockdowns across Europe and Greece will limit our activity to levels lower than 20% of the respective 2019 period," states Aegean chief executive Dimitris Gerogiannis.
"The possibility of the initiation of vaccine distribution in early 2021, as well as the adoption of common travel protocols, could potentially allow for a gradual and partial recovery as 2021 progresses."
Aegean ended the third quarter with €421 million in cash, down from €618 million at the same time last year. Outstanding borrowing reached €290 million.