Grupo Aeromexico, the parent company of Mexico's legacy carrier, says the airline's position during the third quarter of 2021 continued to improve in line with the global aviation industry.
"Aeromexico has been successful in managing its network on a flight by flight basis ensuring that its operations are cash generative," the Mexico City-based airline says on 19 October. "During the third quarter, the company continued to see recovery in travel demand supported by the strengthening of its domestic and international network."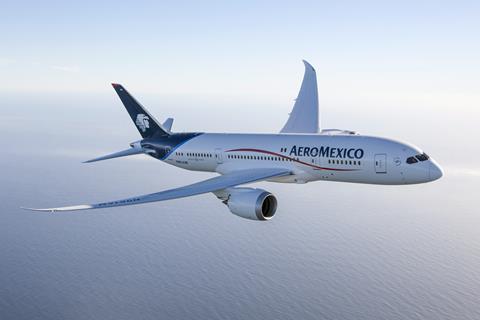 In the quarter which ended in September, the airline's total revenue came in at Ps13 billion ($642 million), up from Ps4.7 billion during the same quarter in 2020. Still, that's down 28% from Ps18.4 billion in the same three months of 2019, the carrier says.
The company's net loss for the quarter was Ps.2.2 billion, compared to Ps2.8 billion during the same quarter a year earlier, as the global health crisis was ravaging the industry.
"In spite of the current challenging environment, the market showed encouraging signs of recovery," Aeromexico says.
During the three months, the carrier deployed 24.8% more capacity (measured in available seat kilometres - ASKs) than a quarter earlier, with improvements in both domestic and international markets, which grew by 11.6% and 35.4%, respectively, Aeromexico says. Total ASKs were 26.9% lower compared to the third quarter of 2019.
The airline had 122 operating aircraft at the end of June, four more than it had at the end of the second quarter. During the quarter, Aeromexico took delivery of two Boeing 737-800s, and two 737 Max 9s.
The company also says that it is making strides in its reorganization under bankruptcy protection proceedings in the USA.
The airline filed a reorganization plan with a US bankruptcy court on 1 October, which management called "a key milestone on the company's path to emergence from its Chapter 11 process".
In June 2020, Aeromexico had filed for Chapter 11 bankruptcy protection after the coronavirus pandemic and ensuing travel restrictions in numerous jurisdictions devastated passenger demand. The carrier said at the time that the process would allow it to "strengthen its financial position and liquidity, protect and preserve its operations and assets, and implement necessary operational changes to address the impact of the ongoing Covid-19 pandemic".
It was the third Latin American carrier to seek protection from creditors within a few weeks. Chile's LATAM Airlines and Colombia's Avianca had filed for bankruptcy in May 2020 after liquidity crises forced them to restructure debt.
Earlier this week, the airline said that its court hearing to confirm its reorganization plan will take place "on or around" 13 December. That's two weeks later than the originally planned date of 29 November 2021.
"Aeroméxico intends to continue working with its key stakeholders to finalize the plan and emerge from Chapter 11 as expeditiously as possible," the airline said.