Air Arabia Group's run of profitable quarters continued for the July-September period, as it noted "signs of recovery" in key markets.
The low-cost group's operating profit of Dhs138 million ($38 million) for the third quarter compares with a profit of Dhs410 million in the same period of 2019, but marks a significant improvement from the Dhs59 million loss it saw in 2020 at the height of the pandemic.
It also marks the fourth quarter in a row that the Sharjah-based business has been profitable on both an operating and net basis.
"This performance is supported by the gradual resumption of operations witnessed this year, especially in the third quarter, as well as the cost control measures adopted by the management team since the start of the pandemic," says Air Arabia chairman Sheikh Abdullah Bin Mohamed Al Thani. "We are confident that the gradual ease on travel restrictions and resumption of operations will continue to help the industry in its path towards recovery.
Group revenue of Dhs804 million was up from Dhs294 million in the third quarter of 2020, but down from Dhs1.44 billion in 2019.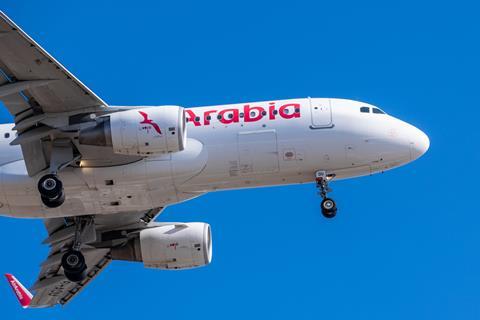 Its net profit of Dhs209 million for the July-September period compares with a loss of Dhs44 million in 2020 and a profit of Dhs471 million in 2019. Air Arabia adds that it ended the first half of 2021 with equity of Dhs5.55 billion, which was up 23% from 31 December 2020.
"Liquidity and cash reserves remain strong and help to manage the Covid-19 crisis and its impact on business," the group says.
Air Arabia states that it served more than 1.9 million passengers in the third quarter from its five hubs: Abu Dhabi, Ras Al Khaimah and Sharjah in the UAE, Casablanca in Morocco, and Alexandria in Egypt. That was way ahead of the 665,000 passengers it handled in the same period of 2020, but significantly below the 3.4 million it recorded for the third quarter of 2019.
Its load factor for the period was 70%.
"Long-term business continuity remains top priority", the group says, adding that its current focus is on resuming operations, enhancing its cash position and controlling costs.
Air Arabia notes that during the three months it signed agreements to launch new low-cost carriers in Pakistan and Armenia.
The vast majority of Air Arabia's 58 in-service aircraft – 52 Airbus A320s and six A321LRs – are based at Sharjah, the airline says, with nine flying with Air Arabia Maroc and four with Air Arabia Egypt. Cirium fleets data indicates two jets are based in Abu Dhabi as part of the nascent Air Arabia Abu Dhabi joint venture with Etihad Airways.