Shareholders in Air Baltic have approved a €250 million ($285 million) investment by the Latvian government to ensure the carrier's survival amid the coronavirus crisis.
Chief executive Martin Gauss indicates that the cash and subsequent recovery will at some stage lead to a public listing. "With this new equity investment, we are executing our new business plan 'Destination 2025 CLEAN'. This investment will facilitate the successful growth of Air Baltic leading to an IPO in the future," he states.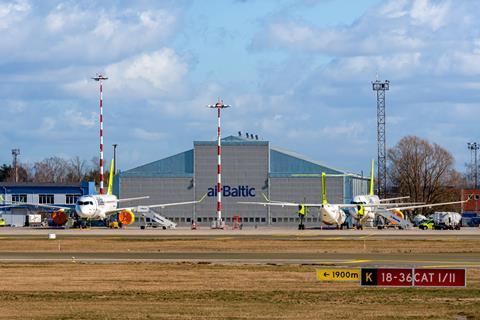 The Latvian state holds around 80% of the airline's stock, with the remainder held by Danish businessman Lars Thuesen through his fully owned company Aircraft Leasing 1 SIA. The cash injection was approved by the European Commission on 3 July.
Back in April the carrier's supervisory board approved an updated business plan that foresees a reduced fleet based around the Airbus A220-300, of which Air Baltic currently has 22.
"The new plan takes into account the reduced capacity for the years 2020 and 2021, while at the same time foresees return to growth with up to 50 Airbus A220-300 aircraft by the end of 2023," notes Air Baltic. "The additional 30 options of Airbus A220-300 remain for future growth."
Cirium fleets data indicates that 19 of the carrier's A220s are currently in service, with the remaining three in storage. Air Baltic also has four Boeing 737-300s and 12 Bombardier Q400s stored.