Latvian carrier Air Baltic posted net profit before exceptionals in the third quarter as it sees an improvement in its financial results.
Air Baltic posted a pre-exceptionals net profit of €17.1 million ($17.8 million) for the three months ending 30 September. It did not provide a corresponding figure for 2021, but it was a year in which it posted net losses of €135.7 million – itself a roughly halving in losses from 2020.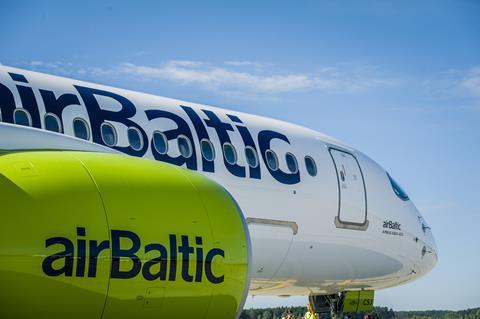 Air Baltic chief executive Martin Gauss says: "The aviation industry is recovering from the effects of the pandemic, and that is reflected also in our financial results. With exceeding €362.5 million revenue and 2.4 million passengers already in the first nine months of this year, Air Baltic is on the way back to profitability."
Air Baltic revenues were 172% higher over the first nine months of this year than during the same period on 2021.
The Latvian carrier's recovery from the pandemic has been further complicated by the impact of the Russia-Ukraine war.
"The war in Ukraine with all its consequences has changed our market conditions significantly, facing supply chain issues, growing fuel prices, rescheduling the airline's operations, and more," says Gauss.
"But we remain consistent and our core goal remains the same – Air Baltic will continue expanding its market share, by further improving connectivity between the Baltics and the rest of the world."