Air Baltic chief executive Martin Gauss has reaffirmed the carrier's commitment to an IPO, and expressed confidence that its strategy to become an all-Airbus A220 operator makes it "well-positioned" to emerge from the Covid-19 crisis.
The airline has also announced that it will begin flights from Riga to Dubai in September. The service will be operated four times a week and will replace Air Baltic's Riga-Abu Dhabi route.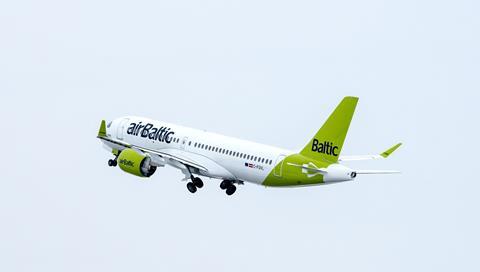 Speaking on a public webinar that was broadcast live on YouTube on 24 March, Gauss said Air Baltic's single-aircraft fleet means it is "well-positioned to fly out of this crisis" because of the A220's lower operating costs and flexibility to operate both short- and longer-range routes.
The carrier has 25 A220-300s – two of which are listed by Cirium as being in storage – and a further 25 on order. It has options and letters of intent on an additional 30 of the type. Air Baltic in November appointed Jetcraft Commercial to sub-lease 11 of its De Havilland Canada Dash 8-400 turboprops, as part of its plan to become an all-A220 operator.
The A220 is "the right size" because it makes it "much easier to open up a route again" as travel restrictions ease, and it can be used to operate high-frequency short-haul routes, such as Vilnius-Tallinn, as well as longer-range routes, like Air Baltic's upcoming Dubai service, says Gauss.
The airline will take delivery of seven more A220s this year, he adds, after agreeing last August to push back deliveries. Air Baltic had signalled that it would have all 50 A220s in service by 2023, but this has been delayed until 2024.
Gauss reaffirms that Air Baltic "will go to the stock exchange" to sell shares in order to pay back the Latvian government's "temporary" €250 million ($295 million) equity investment, which was approved by the European Commission in July. No date has been disclosed for the IPO.
The airline's new business plan, "Destination 2025 CLEAN", is "the business plan that will take Air Baltic out of the crisis", asserts Gauss. The plan – an adjusted version of its "Destination 2025" strategy – includes five different scenarios of how Air Baltic will respond based on the speed and efficacy of Europe's Covid-19 vaccination programme.
"The key now is that vaccination levels need to increase in Europe and Latvia," says Gauss. "We depend on the freedom of people to move around."
He describes trials of IATA's Travel Pass and the European Commission's proposed Digital Green Pass – both of which are designed to remove restrictions by enabling travellers to provide evidence of their health status – as being "the last steps before we are out of the crisis".