Air Canada has begun retrofitting the cabins of its Airbus A320-family aircraft, a process that is expected to continue through 2025.
The Montreal-based carrier rolled out the changes – including new exterior cameras, upgraded seating, larger overhead bins, Bluetooth audio and colourful LED lighting throughout the cabin – during its first revenue flight with a redesigned A321 on 21 October.
The exterior cameras are a first for commercial narrowbody aircraft, Air Canada says: "Customers can now watch their flight live thanks to a new first-in-class narrowbody tail and belly camera system providing high-resolution, real-time video of the aircraft exterior."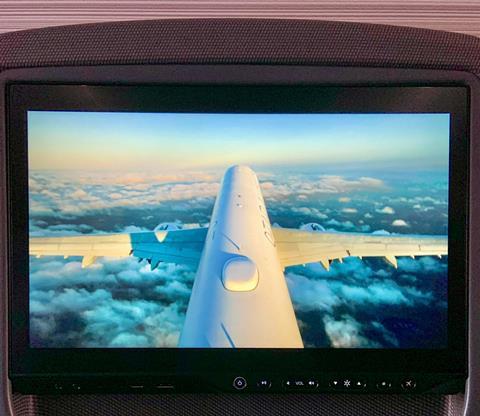 The carrier's remaining 14 A321s and eight A320s will be retrofitted starting in the fourth quarter, bringing those aircraft in line with the carrier's A220s and Boeing 737 Max aircraft, which compose the majority of its narrowbody fleet.
"These upgraded fleet interiors will align the A320s and A321s to the highly popular A220 experience, further strengthening our industry-leading product offering," says Mark Nasr, Air Canada's executive vice-president, marketing and digital.
The retrofitted cabins decrease the overall weight of Air Canada's A321s by 240kg (529lb), which stands to reduce the carrier's annual consumption of jet fuel by 2.4 million litres (634,012gal) once its A320-family fleet is completely upgraded.
Air Canada will report its third-quarter financial results during an earnings call scheduled for 30 October.