Air Canada's chief executive is "confident" that the government of Canada will offer airlines a sector-specific financial aid package – the type of support for which the industry has clamoured since the coronavirus pandemic began.
"The discussions have picked up a pace that I would characterise more like negotiation," the Montreal-based carrier's CEO Calin Rovinescu says during the airline's fourth-quarter earnings call on 12 February. "I am more confident there can be an outcome now than I was a month ago."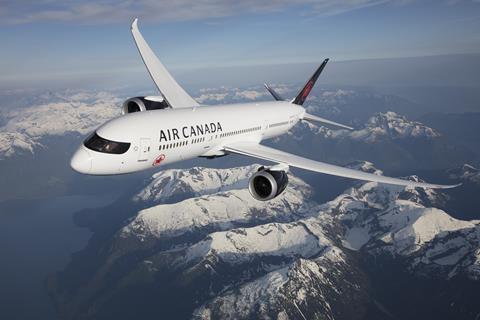 In early November, the government of Canada said it was considering an airline-industry aid package. So far, no such aid has materialised.
Throughout 2020, executives at numerous Canadian airlines repeatedly called on lawmakers to provide Covid-19-related financial support similar to what the US, France and Germany provided to their aviation sectors. In Canada, the country's strict travel restrictions – which include a national 14-day blanket quarantine for all arrivals as well as some province-specific rules – have made domestic and international travel almost impossible.
Canada established the "Canada Emergency Wage Subsidy" programme early on in response to the pandemic, but airline leaders have said that more aid is needed.
Any plan would include guidance on three issues, Rovinescu says: "An agreement on customer refunds for cancelled flights, an understanding on regional routes and a return to some of the regional markets, as well as some form of support for the aerospace sector."
"Our expectation is that there will be something on all of these three," he adds.
Air Canada chief financial officer Michael Rousseau says the airline can imagine a package similar to the USA's CARES Act. Passed in March 2020, that package provided US airlines with loans and six months' worth of payroll-support grants.
"We compete with the US airlines, so we think that a similar programme with some Canadian modifications would suit the airline industry in Canada." says Rousseau.
Air Canada executives say the potential aid package comes a year late, after the airline has reduced its operation and workforce.
"What might have been acceptable a year ago may be different at this point in time," Rovinescu says.