Air Canada will once again reduce its employee count and shrink its network, citing new Canadian travel restrictions aimed at mitigating the spread of the coronavirus.
The Montreal-based carrier says on 13 January that it will reduce capacity by 25% for the rest of the quarter and cut another 1,900 jobs. With these reductions, capacity during the first quarter of 2021 will be just 20% of what it operated in the first quarter of 2019, the airline says.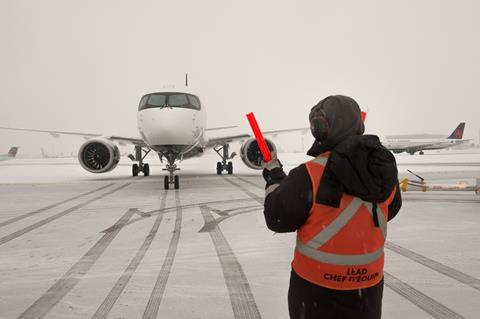 "Since the implementation by the federal and provincial governments of these increased travel restrictions and other measures, in addition to the existing quarantine requirements, we have seen an immediate impact to our close-in bookings and have made the difficult but necessary decision to further adjust our schedule and rationalise our transborder, Caribbean and domestic routes to better reflect expected demand and to reduce cash burn," says Lucie Guillemette, the airline's chief commercial officer.
The airline adds that it is "encouraged" that two coronavirus vaccines have gained approval and it anticipates business will return when a wide swath of the population is immunised, likely by September.
"We look forward to seeing our business start to return to normal and to bringing back some of our more than 20,000 employees currently on furlough and layoff," Guillemette says.
Last week the Canadian government decided that all passengers arriving from abroad must present proof of a negative Covid-19 test result that is no older than 72h. Airlines are responsible for ensuring passengers have correct documentation before they board aircraft bound for Canada.
The negative test requirement is in addition to a mandatory national 14-day quarantine that has been in effect for almost 10 months. That means, even with a negative test, arriving passengers must still isolate for two weeks or risk hefty fines or up to six months in jail.
Some individual provinces have additional, distinct isolation requirements, adding complexity to domestic Canadian travel as well.
Canadian airlines have heavily criticised the new testing requirement. Announcement of the policy "occurred without prior coordination with industry" and left airlines scrambling to implement the order at short notice, trade group National Airlines Council of Canada said last week.
Air Canada's outgoing chief executive, Calin Rovinescu, has repeatedly called upon the government to relax the measures and support the country's air travel industry with sector-specific financial aid, as has been the case in other countries. So far, the government has not provided such aid. Thousands of jobs in the industry have been lost.
Last week, Air Canada's Calgary-based competitor WestJet also laid off another 1,000 employees, about one-third of its remaining staff, and cut its capacity in response to the new restrictions.
Toronto-based regional carrier Porter Airlines, which shut down after shelter-in-place orders were imposed, announced that it plans to begin operations again on 29 March, more than a year later. It's the eighth time the carrier has delayed its restart and questions remain as to whether or not Porter will return at all.