Air Canada returned to profitability in the fourth quarter of 2022, reporting a C$168 million ($125 million) profit and marking a milestone in the flag-carrier's long recovery from the Covid-19-related drop off in air travel.
For perspective, the Montreal-based airline lost C$493 million in the fourth quarter of 2021, which was affected by Canada's tight pandemic-related travel restrictions. The country dropped such restrictions in September 2022.
Air Canada last reported a quarterly profit in the fourth quarter of 2019.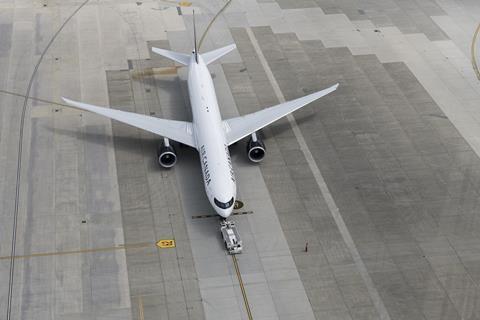 Chief executive Michael Rousseau attributed Air Canada's progress to "the deep resilience we have built into our company for long-term stability", during the carrier's earnings call on 17 February.
"This was due to solid demand and yield environments across our network," he adds. "This progress was also a result of the dedication and hard work of our employees who safely transported more than 2 million customers during a holiday period challenged by severe winter weather across North America."
The carrier was still in the red for the full year, posting a C$1.7 billion loss, an improvement from its C$3.6 billion loss in 2021.
Air Canada generated a company-record C$4.7 billion in operating revenue in the final three month of 2022, a 71% increase from C$2.7 billion during the same quarter the previous year.
For the full year, the airline generated $16.6 billion in operating revenue, up significantly from $6.4 billion in 2021.
Air Canada's 2022 capacity came in at 82.6 billion available seat miles [ASM], up 147% from the previous year. Meanwhile, the carrier's full-year operating expenses increased 77% over 2021, to C$16.7 billion.
All 40 Boeing 737 Max 8s the airline had ordered were delivered by the end of 2022. Air Canada also accepted delivery of one Airbus A220 in January, raising its total of the type to 33. Air Canada has firm orders for 27 additional A220s and expects deliveries of six in 2024, six in 2025 and 15 in 2026.
"Our A220 and Max deliveries, complemented with our announced 30 A321XLR aircraft, will complete the renewal of our narrowbody fleet," says Amos Kazzaz, Air Canada's chief financial officer.
For the first quarter of 2023, Air Canada says it expects to increase its ASM by roughly 50% year on year.
"We are very encouraged with the positive outlook ahead," Rosseau says. "Our quarterly ticket sales were 102% of the fourth quarter of 2019, on a lower level of capacity, and we expect a solid demand environment in 2023. In anticipation, we are building out our global network, continuing our narrowbody fleet renewal and investing in technology and customer service."