Air Canada is undaunted by regional carrier Porter Airlines' plans to grab market share when it begins operating jet aircraft from Toronto's Pearson International airport in 2022.
Speaking on the Montreal-based company's second quarter earnings results call on 23 July, Air Canada chief executive Michael Roussau says the network carrier is prepared to face up to the new competitor.
"We certainly welcome healthy competition, suffice it to say we will be ready to deal with that situation," says Rousseau. "Competition will make us better, and we will be able to deal with it effectively as they ramp up their expansion."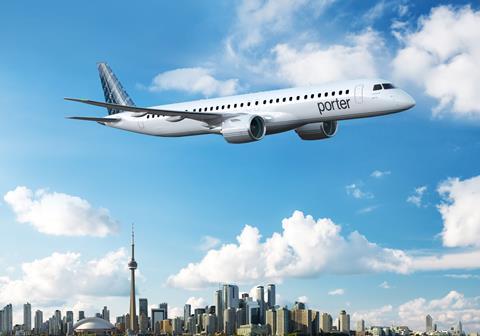 "We are all working on ensuring we get better and retain market share," Rousseau adds.
Earlier this month Porter, which has been dormant for 17 months during the pandemic, ordered 30 Embraer 195-E2s and took options on a further 50 of the jets as part of plans to expand to Pearson airport and to southern warm-weather destinations.
The news marked a major fleet and network shift for Porter, an all-turboprop operator that has never served Pearson and that previously planned to acquire Airbus A220s.
To date, Porter flew out of Toronto's secondary airport, Billy Bishop Toronto City - where it is also headquarterd - from which it operated a fleet of 29 De Havilland Canada Dash 8-400s.
It primarily flew regional Canadian routes, including to some US destinations, but only as far south as north Florida.
The carrier halted operations in March 2020 amid the Covid-19 pandemic and has pushed back its expected restart several times. It now plans to resume service on 8 September.