Air Canada's post-coronavirus recovery progressed in the third quarter after Canada relaxed travel restrictions and travellers began booking air travel in higher numbers.
The Montreal-based carrier says on 2 November that its revenue for the three months ending on 30 September was C$2.1 billion ($968 million) – almost three times the C$757 million in operating revenue it reported in the third quarter of 2020.
The airline lost C$640 million in the third quarter. That is less than the C$685 million it lost in the same quarter last year, during the height of the crisis.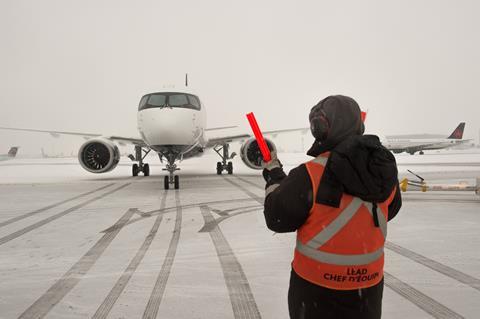 "We are encouraged by the favourable revenue and traffic trends in the third quarter," says chief executive Michael Rousseau.
Strong increases in passenger travel, combined with record cargo performance and strict cost controls resulted in the improved results, he adds.
During the third quarter, the airline's capacity was 87% more than in the 2020 period – but still 67% less than in the third quarter of pre-pandemic 2019, adds chief commercial officer Lucie Guillemette. Load factor was 71.2%, versus 42.3% in the same three months in 2020.
"Our recovery is most-decisively underway," Guillemette says. "And the faster-than-expected rebound is driving optimistic expectations for 2022."
During the third quarter, Canada lifted pandemic-driven travel restrictions that had been in place since March 2020. In July, fully vaccinated Canadians and permanent residents returning to the country no longer had to submit to ququarantines. In August, fully vaccinated US travellers were again permitted to enter for non-essential purposes, and in September Canada opened its borders to all other vaccinated foreign travellers.
Air Canada increased its capacity to the USA by five-fold between July and September. That segment accounted for ten times more revenue than in the third quarter a year ago, Air Canada says. Transatlantic passenger revenue tripled, on a 58% capacity increase.
Cargo revenue jumped 60% during the quarter, and in the first nine months of 2021, the carrier's cargo revenue surpassed C$1 billion, Guillemette adds. The airline continues to operate all-cargo flights using passenger aircraft, including Boeing 777-300ER and Airbus A330s.
By the end of 2022, Air Canada plans to return those 777-300ERs and A330s to passenger flights. New international passenger routes will give Air Canada more cargo capacity in the bellies of passenger jets, allowing the cargo segment to grow, says Guillemette. The carrier will also bring one dedicated Boeing 767 Freighter to its fleet by the end of 2021, and four more by the end of 2022.
Air Canada has recalled more than 10,000 employees since the beginning of 2021 and has restored numerous international routes, including those to Delhi and to several South American destinations. Last month, it announced expansion of its summer flight schedule for 2022, which will see the airline introduce seasonal service between various cities in Canada and Barcelona, Venice, Nice, Manchester, Edinburgh and Reykjavik.
"Obviously there's no textbook on this type of recovery," Rousseau says. "There's no doubt we are very encouraged by what that we see… We have provided ourselves options to grow quickly, so we believe that we can get almost all the way back to 2019 capacity by 2023."
These "options" include ordering aircraft that the airline had previously cancelled. Air Canada has reversed its decision to cancel two Airbus A220 orders – to be delivered in 2024 – and is now also accelerating deliveries of new Boeing 737 Max aircraft as well. The carrier will have taken seven 737 Max by the end of this year.
The carrier ended the third quarter with 167 aircraft in its fleet.
With business travel lagging, the airline continues focusing on leisure travel, and on capturing a more-premium segment of that market.
"In domestic Canada, we are lagging behind what we are observing in the US," Guillemette says. "Come 2022, when corporate Canada returns to offices, business travel should return, too."