Air Canada reported another quarterly loss as it continues to shrink its fleet and defer aircraft deliveries amid a slow recovery hindered by ongoing strict travel restrictions in the country.
The Montreal-based airline on 9 November reported a third-quarter net loss of C$685 million ($529 million) on revenues of C$757 million, down 86% from the third quarter of 2019.
Between C$550-600 million of that loss is directly attributable to the comprehensive travel restrictions that Canada has had in place since March, executives say.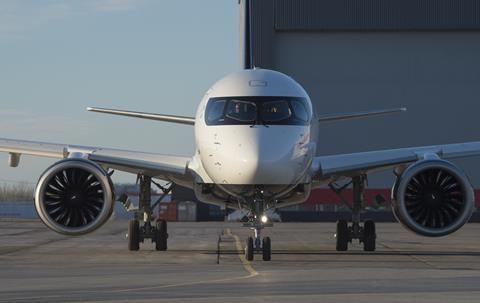 As a result of the decline in passenger demand and ongoing difficult business environment, Air Canada says that it will be deferring new Boeing 737 Max and Airbus A220 aircraft that had been scheduled for delivery in 2021 and 2022, and cancelling 10 737 Max and 12 Airbus A220s.
That represents about 40% of the carrier's scheduled deliveries.
In addition, the Air Canada is accelerating the retirement of 79 aircraft, the airline says.
"This is the fleet that we are going to go with for the next three-plus years but we have great optionality, and we have the ability if there is a more optimistic return, to exercise our options and return to additional deliveries starting in 2022," says chief executive Calin Rovinescu.
Air Canada recently took delivery of its 10th A220 and expects to end the year with 15, chief commercial officer Lucie Guillemette says. Altogether, the airline had ordered 45 of the type and 26 Boeing 737 Max 8 aircraft, Cirium fleets data show.
The airline does not expect Boeing's beleaguered 737 Max to fly in Canada this year, but is optimistic that it can begin revenue service on Canadian routes in 2021. The type has been grounded for more than 19 months after two fatal accidents killed 346 people.
The Federal Aviation Administration and other regulatory bodies including Transport Canada have been evaluating changes to the design and operation of the Max, and expect to release it into revenue operation in the coming weeks.
"We don't have a definitive date but the way its playing out now, [we] expect there to be an airworthiness directive issued this year…and that the aircraft will be flying early next year in Canada or to Canada," Rovinescu says. That includes aircraft operated by other carriers flying to Canadian destinations.
QUARANTINE BLUES
The company's third-quarter results reflect demand at a time when Canada is still requiring all inbound passengers to quarantine for 14 days upon arrival. What's more, numerous individual provinces have additional travel rules that are contributing to the ongoing dearth of travellers – from overseas as well as within the country.
"Today's results reflect Covid-19's unprecedented impact on our industry globally and on Air Canada in what has historically been our most productive and profitable quarter," Rovinescu says.
Earlier this year, the airline decided to indefinitely suspend numerous routes and close several of its bases. Going forward, Rovinescu says, a further 95 domestic, transborder and international routes are on the chopping block, as well as the closure of nine additional stations "as we prepare for a smaller footprint expected to last several years".
Rovinescu has been one of the most vocal opponents of Canada's ongoing quarantine requirement, often blasting the government for its approach in dealing with the pandemic and criticising Ottawa for making no effort to alleviate the airlines' financial difficulties.
But on 8 November, Canada's minister of transport Marc Garneau said the government was reconsidering a proposal to send financial aid to the ailing industry. The move comes months after other countries such as the USA, Germany and France did so for their aviation sectors. Negotiations on a rescue package could begin as early as this week.
Pending the progress of those discussions, Rovinescu says the route suspensions could be deferred.
SNOWBIRDS TO SUN DESTINATIONS
With the border to the United States still effectively sealed for non-essential travel, Canadian airlines are looking with trepidation toward the months ahead, and whether or not travellers, also known as "snowbirds", will be making their traditional annual trek to the beaches of Florida or other warm-weather destinations in California, Nevada and Arizona.
Air Canada plans to reduce its fourth quarter capacity – which includes the all-important end-of-year-holiday travel season – by approximately 75% from capacity in 2019. Guillimette says the company is operating a skeleton US-Canada transborder schedule but is prepared to ramp up quickly, especially to these destinations so beloved by Canadians escaping their long and harsh winters, should conditions change.
The US-Canada frontier, the longest peaceful border in the world, was closed on 21 March and after several extensions is now scheduled to re-open at the end of next week.