Air Canada says it is cutting 16,500 employees and slashing its network by up to 90% in April and May, confirming earlier reports in Canadian media.
"Due to the unprecedented impact of COVID-19 upon its business, the airline will reduce capacity for the second quarter of 2020 by 85%-90% compared to last year's Q2 and will place 15,200 members of its unionised workforce on off duty status, and furlough about 1,300 managers. The workplace reductions will be effective on or about April 3 and are intended to be temporary," the airline writes in a statement on 30 March.
News of the staff reduction, which accounts for more than half the airline's total staff of 30,000, comes two weeks after Canada's largest airline announced it had temporarily laid off 5,100 flight attendants. It is unclear if the 16,500 staff cuts announced on Monday include the 5,100 attendants.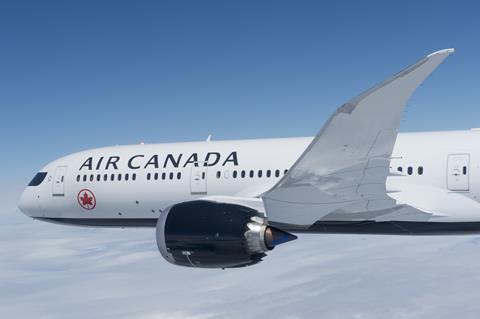 "To furlough such a large proportion of our employees is an extremely painful decision but one we are required to take given our dramatically smaller operations for the next while. It will help ensure that Air Canada can manage through this crisis that is affecting airlines everywhere," says chief executive Calin Rovinescu.
In addition to the staff reducitions, Air Canada will be taking extraordinary measures to protect its liquidity, including cutting salaries of top executives, delaying share buy-backs, drawing down lines of credit and implementing a cost reduction and capital deferral program, the company says.
The union representing the airline's flight attendants, the Canadian Union of Public Employees, says it does not have any information regarding "additional" layoffs among flight attendants. That could imply that the 5,100 layoffs announced on 20 March are part of the 16,500 mentioned on Monday.
This past weekend, Air Canada said it was continuing repatriation flights for Canadians who have been stranded overseas as the coronavirus brought most international air travel to a near-standstill.
On 28 March alone, the company says it operated 59 flights carrying 8,500 passengers. Between 27 and 29 March, the company will have brought home about 22,500 passengers on 175 flights form Asia, Europe, Latin America and the United States, the airline says in a statement on 29 March.
Earlier this month, Air Canada had said it will draw down most of its network but keep some trans-border and international flights after 1 April "to maintain a number of 'air bridges' to facilitate essential travel and ensure the continued movement of emergency supplies and other vital goods". The carrier withdrew earnings guidance for 2020 and 2021, and requested government aid to ease financial losses it expects to suffer in the coming months.
Updated on 30 March to note Air Canada has confirmed the layoffs, and to include additional information provided by the airline.