Air Canada intends to transfer the operation of 25 Embraer 175s from Sky Regional to Jazz Aviation, making Jazz the sole operator of Air Canada Express flights and leaving the future of Sky Regional uncertain.
Montreal-based Air Canada disclosed the change on 1 March, saying it is consolidating its regional operation in the wake of the coronavirus-driven crisis in Canada's air transport industry. Air Canada has not specified when the shift will occur.
The change remains subject to approval by Jazz's pilot union, the Air Line Pilots Association, International (ALPA), Air Canada says.
The fleet shift appears likely to leave Sky Regional without any aircraft, as the airline operates only 25 E175s for Air Canada, according to its website.
Sky Regional, which says on its website that it employes "over 650 people in Toronto and Montreal", did not immediately respond to a request for comment.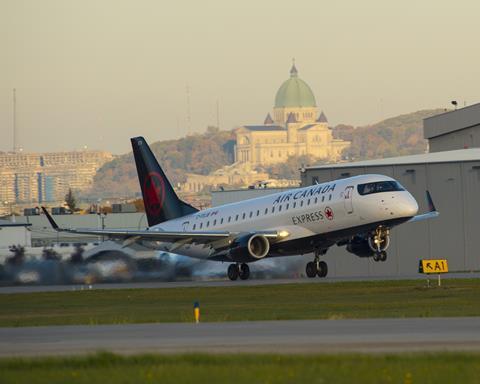 "Sky Regional has provided excellent service to Air Canada and its passengers over the past decade with an impeccable safety record and excellent on time performance and cost management," says Air Canada chief executive Michael Rousseau. "We thank Sky and all of its employees for their effort, dedication and valued partnership."
Air Canada says that with this change to its Capacity Purchase Agreement (CPA) with Jazz, it will save up to C$400 million ($316 million) over the course of 15 years – C$43 million annually until 2026 and C$18 million annually thereafter.
"This necessary realignment of our regional services will help Air Canada achieve efficiencies and reduce operating costs and cash burn by consolidating its regional operations with one provider," says Richard Steer, Air Canada's senior vice-president of operations and express carriers. "By streamlining the regional fleet, this agreement will also position Air Canada to operate more competitively with a single provider as traffic returns following the pandemic."
Of the 25 E175s to be transferred, 16 are in service and nine are in storage, according to Cirium fleets data.
Jazz parent Chorus Aviation says that with the acquisition of the jets, it will be phasing out its 20 De Havilland Canada Dash 8-300s.
"The Covid-19 pandemic continues to challenge the aviation industry. With the Jazz fleet operating at a fraction of the capacity it flew a year ago, now is the time to update the CPA to help preserve regional flying and Jazz's place within it," says Chorus chief executive Joe Randell.
"The Jazz fleet is up-gauging to larger regional jet aircraft and replacing smaller turboprop fleet sooner than contemplated in the previous fleet plan. Bringing the Embraer 175 aircraft into the Jazz covered aircraft fleet makes Jazz the exclusive Air Canada Express operator of 70+ seat aircraft until 2025 and is a demonstration of our cost competitiveness and strong relationship with Air Canada."
If Jazz reaches an agreement wtih ALPA, the deal would take effect retroactively, on 1 January 2021, Air Canada says.