Air Canada will fly all-business-class configured Airbus A319s on several scheduled routes this winter as it searches for passengers after the coronavirus decimated Canada's air transport industry.
The Montreal-based carrier says on 21 October it will deploy the A319s – which are part of the company's Jetz charter fleet – on Air Canada routes to warm-weather destinations during the all-important Christmas travel season. The A319s have only 58 seats, all in business class.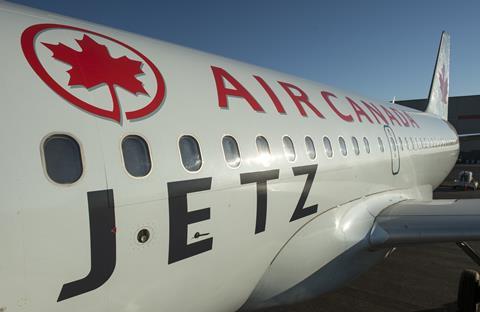 "Customers booking on a Jetz flight will enjoy such amenities as its all-business-class seating configuration, upgraded meal service and shorter boarding and deplaning times. These features, combined with Jetz's other attributes, create a private-jet-like experience," says Air Canada vice-president of network planning and alliances Mark Galardo.
The aircraft, which are typically available for charter by professional sports teams, touring music bands or corporate clients, will be used for commercial service between 12 December and 6 January.
They will fly nonstop from Air Canada's hubs of Toronto, Vancouver and Montreal to southern sun destinations in the US, Mexico and Caribbean. Such destinations, popular with Canadian snowbirds, include Fort Lauderdale, West Palm Beach, Fort Myers, Cancun, Barbados and Puerto Vallarta.
In addition, Air Canada will offer the aircraft on flights from Toronto to western Canadian destinations Kelowna and Vancouver.
The airline says it may deploy the Jetz fleet again during the country's spring break period in March.
Earlier this year, the airline deployed Jetz' A319s on several domestic routes between Toronto, Montreal and Ottawa.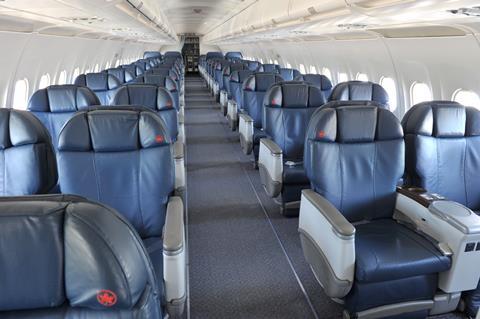 Air Canada continues to struggle to fill seats as the country maintains strict regulations that are keeping travellers away. Chief executive Calin Rovinescu has repeatedly railed against the government for extending measures which, coupled with already fragile demand, have prevented the airline and its Canadian peers from getting back to any semblance of normal business operations.
During a FlightGlobal webinar last week, Galardo said mainline airlines like Air Canada, whose international and business travel revenues have been devastated by the pandemic, are having to "shift network strategy" to capture the "visiting family and relatives" air travel segment, which is expected to recover fastest.