The air cargo sector – touted as the airline industry's bright spot during the coronavirus crisis – saw the largest year-on-year fall in demand in the history of IATA data during 2020, although there was some encouragement from December figures.
Releasing full-year data today, IATA states that global demand measured in cargo tonne kilometres fell 10.6% in 2020 – the worst result since it began collating figures in 1990 – outpacing a 6% fall in global trade in goods.
The demand decline was driven by operators in Asia-Pacific, Latin America, Europe and the Middle East, with North American and African carriers seeing a slight rise year on year.
In global terms, capacity declines outpaced the fall in demand, at 23.3% lower year on year, as bellyhold capacity collapsed alongside long-haul passenger travel.
Amid that capacity crunch, load factors rose 7.7%, contributing to increased yields.
The capacity crunch was still evident in December, IATA notes, but global demand was down just 0.5% year on year, on capacity 17.7% lower.
"With the stalling of the recovery in passenger markets, there is no end in sight for the capacity crunch," IATA states.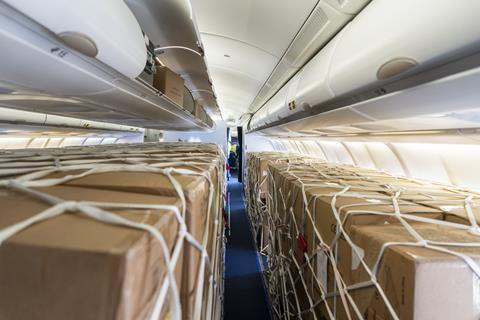 The airline industry body also says that economic conditions are "picking up" going into 2021, even if this is not translating into an improved outlook for the passenger side of the airline business.
"For many airlines, 2020 saw air cargo become a vital source of revenues, despite weakened demand," says IATA director general Alexandre de Juniac. "But with much of the passenger fleet grounded, meeting demand without belly capacity continues to be an enormous challenge.
"And, as countries strengthen travel restrictions in the face of new coronavirus variants, it is difficult to see improvements in passenger demand or the capacity crunch. 2021 will be another tough year."
Freight carriers in Asia-Pacific, Latin America and Europe saw the biggest year-on-year falls in demand measured in CTKs during 2020, at 15.2%, 21.3% and 16.0% respectively.
Middle Eastern airlines saw a drop of 9.5%.
North American operators – who benefit from large domestic markets unaffected by border closures – saw a 1.1% increase in demand, while the small market involving African carriers saw a 1.0% increase.