Air cargo demand helped Korean Air eke out an operating profit of W7.6 billion ($6.5 million) in the third quarter — its second consecutive profitable quarter since the coronavirus struck — but its overall revenue was down more than half from a year earlier.
The W7.6 billion operating result for the three months ended 30 September is 94% below the third quarter of 2019, before the coronavirus pandemic.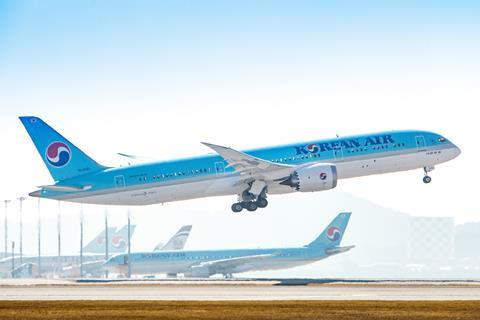 Revenue for the quarter fell 53% to W1.55 trillion, while expenses fell 51% to W1.54 trillion.
RPK's fell 91% from a year earlier, but FTKs rose 59%. The airline said that cargo demand has remained strong, and it has been able to increase cargo capacity through the use of passenger aircraft for cargo services.
Korean's net loss, however, widened to W386 billion from W118 billion a year earlier.
"The aviation industry continues to suffer from the pandemic, and the outlook is still bad," says chief executive Walter Cho.
"We were able to achieve a second profitable quarter due to our strong cargo operations and the sacrifices of our employees."
The carrier adds that its passenger business continues to suffer from the collapse in international travel owing to the pandemic, although there was a slight up-tick in services to the Americas, Europe, and East Asia as compared with the second quarter.
It attributed this to more chartered flights for business travelers and the transport of Korean residents, as well as the easing of travel restrictions in some countries, such as Singapore and Malaysia. The carrier also enjoyed domestic demand during summer vacation season.
Its outlook for the fourth quarter is bleak, with passenger demand continuing to fall. This, however, will be partially offset by cargo demand, which is entering peak season.
"In particular, high demand is forecasted for traditional air cargo such as semiconductors, auto parts and e-commerce supplies," says Korean.
"The air cargo business will also benefit from urgent medical supply demand regarding Covid-19 and the lack of marine transportation availability, such as container ships."
The company adds that it is preparing for "travel bubbles" that will allow visitors from countries with low infection levels to travel to South Korea without a 14-day quarantine requirement. It predicts that this will bring a "sharp recovery of international travel."
The airline also notes that Covid-19 vaccines are in development globally, and that distribution is likely in 2021. Korean has a task force to examine the requirements for transporting the vaccine, such as storage and handling equipment, and adds that it is "working closely" with pharmaceutical and logistics companies.
Updated ninth paragraph clarifies reasons for uptick seen in second quarter.