Air China will raise up to CNY15 billion ($2.2 billion) through a non-public share issuance, with the bulk of funds intended to fund the purchase of 22 new aircraft.
In a stock exchange filing on 2 August, the Beijing-based carrier says it will issue up to 4.35 billion A-shares to no more than 35 "specific investors", which include parent company China National Aviation Holding (CNAHC).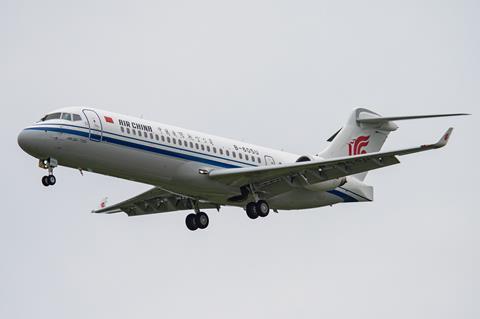 Other investors the carrier is courting include securities investment and fund management companies, securities and finance companies, as well as insurance institutional investors.
Of the CNY15 billion it intends to raise, Air China will use around CNY10.8 billion for the aircraft purchase. The 22 aircraft comprise nine Comac ARJ21 regional jets, four Airbus A320neos, as well as nine A350s.
The aircraft are expected to be delivered between this year and 2023, adds the Star Alliance carrier.
The remaining CNY4.2 billion will be channelled towards the airline's working capital, which "will be invested according to the fund need of the company during its daily operation", says Air China.
So far, CNAHC has announced its commitment to "not less than" CNY5.5 billion of shares, which is expected to take its shareholding to 50.01%. Cathay Pacific, another shareholder of the airline, will see its stake diluted from 18.1% to about 14.6%.
The share issuance, which was given the green light by the airline's board, will be subject to shareholder approval.
The announcement comes weeks after the carrier – together with compatriots China Eastern Airlines, China Southern Airlines and Shenzhen Airlines – announced a major order for 292 A320neo family aircraft.