Air France is to ground its Airbus A380s and its Dutch sibling carrier KLM its full Boeing 747 fleet as part of wider capacity cuts the group expects will result in in potential cuts in its ASK capacity of between 70% and 90%.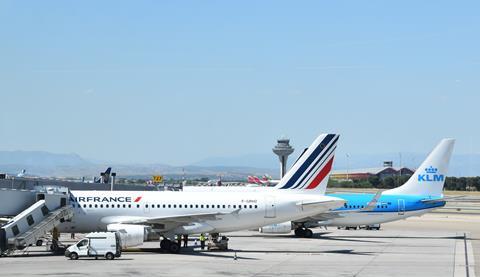 The cuts follow the tightening of travel restrictions in Europe generally, and the group's home nations of France and the Netherlands specifically, in response to the coronavirus crisis. Notably that includes the French government's move to a level 3 public health emergency requiring the closure of all non-essential services.
"Faced with these growing restrictions on the possibility of travelling and a strong downward trend in demand which has resulted in a drop in traffic and sales over the last few weeks, the Air France-KLM Group is obliged to gradually reduce its flight activity very significantly over the next few days, with the number of available seat kilometres potentially decreasing between -70% and -90%," the airline group says.
"This reduction in capacity is currently scheduled to last two months, and the group will continue to monitor the evolution of the situation on a daily basis and adjust it if necessary," it adds.
Specifically Air France and KLM are grounding their biggest capacity aircraft fleets, the A380 and 747s respectively.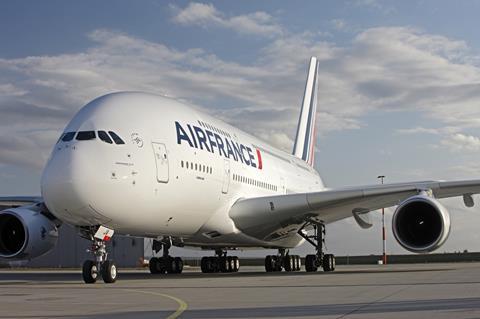 Air France had began reducing its 10-strong A380 fleet (above) just prior to the crisis, with one of four aircraft already earmarked for retirement being flown to Knock in Ireland in February. Cirium's fleets data shows KLM operates seven 747s - a mix of passenger and combi versions - with a further aircraft in storage.
Whilst the group highlights a number of actions it has taken to "secure its cash flow" since the crisis began, it says these savings are likely to only offset around half the expected drop in passenger revenues.
"In spite of the measures taken, the deterioration of the environment linked to the epidemic and the sharp reduction in its activity that has resulted today lead the group to forecast a sharply deteriorated financial trajectory compared to the outlook presented at the publication of its annual results.
"Indeed, the group estimates that the drop in revenues from the Passenger business resulting from the reduction in capacity will only be offset by around 50% by the drop in variable costs before cost savings measures.
"In this extremely difficult context, the Air France-KLM Group has welcomed the statements made by the French and Dutch governments, which have each indicated that they were studying all possible means to support the group."