Air France-KLM has warned that, with no sign of a recovery from currently dire trading conditions, it plans to shrink and become a leaner, more efficient outfit.
Announcing its results for full year 2020, the airline notes that earnings in the first quarter of this year will be even worse than in the fourth quarter of 2020, when passenger numbers fell 75% year on year.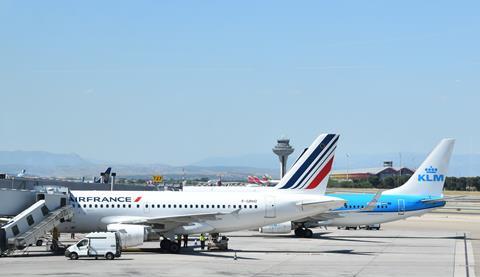 "There is limited visibility on the demand recovery curve as customer booking behavior is much more short-term-oriented and also highly dependent on the imposed travel restrictions, on both the long-haul and medium-haul network", says the group.
It plans to ramp up capacity as lockdowns ease into the summer, but it will not return to 2019 levels until 2024, and will operate 7% fewer aircraft in 2022 compared with 2019.
This is part of its strategy to operate a simplified and younger fleet, centred around fewer aircraft types and flown more efficiently – especially on domestic services – contributing to unit-cost reductions.
Progress towards this resulted in impairment costs of €672 million ($812 million) in 2020, mostly from a €553 million writedown of its Airbus A380s. The group is also phasing out Boeing 747s, Airbus A340s, Embraer ERJ-145s and Bombardier CRJs.
Its wider ambition is to dramatically cut costs and streamline its business across the organisation, including through a harmonisation of its product, a simpler group structure, savings in procurement and suppliers, and "additional group synergies".
Reducing headcount is a key facet of this. Having already cut full-time staff numbers by 8,700 by end-2020, a tenth of its workforce, it plans to lose another 6,000 over "the coming years".
Although such restructuring measures resulted in an €822 million charge for the group in 2020, they will contribute to a decline in unit costs of 8-10% by 2022, should capacity return to 2019 levels as planned.
Overall, by the end of 2021 the group is eyeing structural savings of €750 million at KLM and €800 million at Air France, rising to €1.2 billion at the French flag carrier by the end of 2022.
In the immediate term, the problem facing Air France-KLM is that just as it was hoping to be able to ramp up its operations in January, governments imposed increasingly stringent travel restrictions because of new variants of Covid-19.
KLM is currently banned from operating from the Netherlands to the UK, South Africa and South America, while Air France has banned all non-essential travel to and from the country. As a result: "Instead of gradually increasing capacity during the first quarter, the capacity had to be reduced."
Air France began pivoting its operations to domestic services last year, including to French overseas territories, but this has not been nearly enough to compensate for the loss of international travel.
The massive reduction in its services also resulted in a €595 million cost for fuel over-hedging in the period.
Only cargo revenues stand out positively for the group, rising 77% in 2020. Although this contributed €2.6 billion to the group's earnings, a fifth more than in 2019, overall revenues declined by €4.3 billion.
At the end of December the group had €9.8 billion of liquidity and credit lines. It is examining "quasi-equity and equity solutions" to improve its liquidity, and expects progress in the coming weeks.