Air France-KLM is considering how it could redeploy summer capacity to other markets where demand is stronger in the event of an extended coronavirus impact on its Chinese and broader Asian networks.
During a briefing on its 2019 financial results – in which the SkyTeam group warned of a coronavirus-related hit of up to €200 million ($216 million) for the February-April period – Air France-KLM finance chief Frederic Gagey said the French and Dutch mainline carriers were examining the possibility of redeploying "part of the fleet to some other destinations where demand would be higher" if the coronavirus "crisis" went on for longer than expected.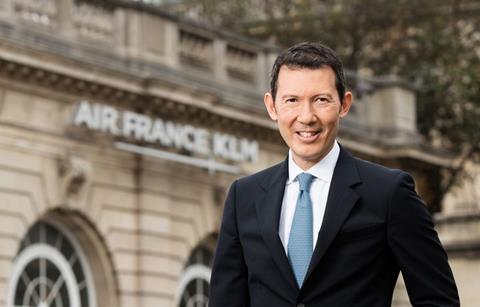 The group is monitoring the "drastically changing" situation on a "day-to-day basis", says Gagey.
However, chief executive Ben Smith is confident it is in a stronger position than some competitors to change its summer network plans if necessary.
"It's important to mention that the networks of Air France and KLM are extremely well diversified. As we move to the seasonally busy part of the year, the opportunities for redeployment are numerous," says Smith.
Air France-KLM has suspended all China flights until the end of March. The group had planned to begin gradually resuming services to Beijing and Shanghai in mid-March and to Chengdu, Hangzhou, Xiamen and Wuhan two weeks later, but today said that all China flights would now remain suspended until 28 March.
The group posted a full-year operating profit of €1.14 billion for 2019, down 19% on the 2018 figure. Net profit fell €130 million to €290 million. The fuel bill increased by about 10% to €5.5 billion. However, the group expects the 2020 fuel bill to be €300 million lower.
Smith says he is "quite pleased" by the progress made with Air France-KLM's transformation plan, which he describes as being "on track". However, he points to "some pushback" and unrealistic demands from pilots at Air France subsidiary Hop, which is undergoing a fleet simplification process.
Overall, social dialogue with labour groups in France has "dramatically improved" and 37 agreements were signed in 2019, says Smith. This, he adds, "gives the flexibility necessary for our transformation plan".
Bernstein analysts agree that the transformation plan "looks to be working", writing in a research note that Air France-KLM management remains confident it will hit its target of reducing unit costs by up to 1% in 2020, "even with the drag of Covid-19". Smith is "clearly working hard to keep unions onside", which is "the right move, if this is to succeed", writes Bernstein.
The group last year placed firm orders for 60 Airbus A220-300s to replace Air France's A318s and A319s. Smith says the "majority" of Air France's A320s and A321s are "earmarked to stay in the fleet in the medium term", although the group is "studying replacement options".
"Should Airbus do a larger version of the A220, we would be very interested," he adds.