Air India has confirmed it will not be retaining the Vistara brand when it merges with its sister unit, though the national carrier intends to "keep some of the heritage" of the Indian carrier.
Speaking at a virtual media roundtable, Air India chief Campbell Wilson says the airline is still awaiting regulatory approval for the merger, which was first announced in 29 November. Air India previously said it expects the deal to be completed by March 2024.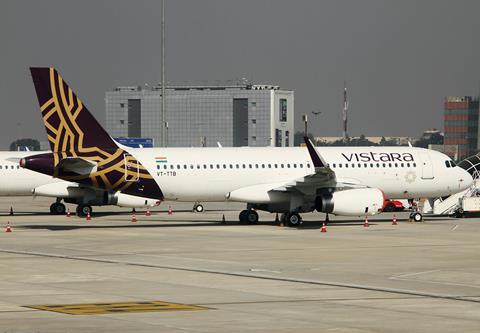 Vistara is a joint venture between Air India parent Tata Group and Singapore Airlines. Under the merger deal, SIA will invest Rs20.59 billion in Air India, in return for a 25.1% stake.
Wilson says the merger is "the beginning and catalysation of a new India aviation ecosystem". While the Vistara brand will disappear in the coming years, HE says Air India will retain "processes and practices" of Vistara, which he says help "accelerate and transform" Air India itself.
When asked if SIA currently has any input on the airline integration, Wilson says that until the merger has been given the regulatory nod, SIA's "contribution will continue to be with Vistara". Wilsonl, who was chief executive of SIA's low-cost unit Scoot before taking the helm of Air India, notes: "We have modelled a lot of Air India's transformation [plan] on systems and practices that Vistara has, and Vistara has modelled itself on a lot of systems and practices of its shareholder Singapore Airlines."
He notes that Air India also remains on track to meeting its target of capturing 30% domestic market share in five years - a goal outlined in its Vihaan.AI business transformation plan.
Current regulatory data shows Air India holding less than 10% domestic share, but through its proposed merger with Vistara, Wilson says market share will rise to about 24%.
It faces stiff competition from the country's largest operator: low-cost carrier IndiGo, which commands more than half of the domestic market.
Since being taken private by the Tata Group, Air India has is also in the process of combining its airline units together, which also includes low-cost operators Air India Express and AIX Connect (formerly known as AirAsia India). The enlarged group will operate over 200 widebody and narrowbody aircraft.
Air India in February placed a record order for 470 aircraft from Airbus and Boeing, which it says will be funded by a mix of cash, equity and sale-and-leasebacks.