Vistara recorded a net profit before currency costs for the three months ending December, the first time the Indian carrier, a joint venture between Tata Sons and Singapore Airlines, has posted a profitable quarter since it began operations in 2015.
Alongside the its first quarterly profit, Vistara says it has passed the $1 billion revenue mark – its highest figure to date – and is EBITDA positive across the first three quarters of its financial year.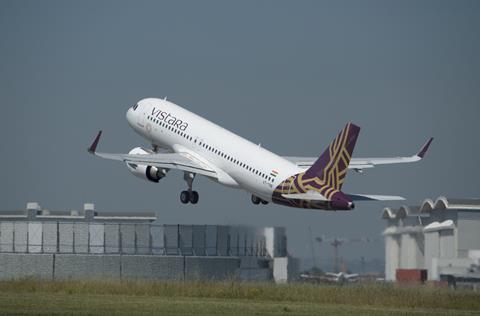 That has been achieved on the back of increased flying activity. Vistara, which surpassed Spicejet to become India's second biggest operator on domestic routes in the summer, flew more than 11 million passengers in the 2022 calendar year as travel markets reopened in the region after Covid. That is more than the 7.6 million it flew in 2019.
Vistara chief executive Vinod Kannan says: "With significant network and fleet expansion and sustained growth over the last few months, 2022 has been a phenomenal year for Vistara, in terms of our operational and financial performance.
"We are now aiming for higher goals as we enter the next phase of our growth journey," he adds.
But the carrier will not remain a stand-alone business for much longer: SIA agreed a deal in late November to merge Vistara with Air India, the stated-owned carrier Tata Sons acquired a year ago. The partners aim to complete the creation of the enlarged airline by March 2024.
Air India is working on a major order as part of its expansion plans, with local reports suggesting that a deal for almost 500 aircraft, split across Airbus and Boeing narrowbody and widebody jets, will be announced before the end of the month.