Air India has outlined progress so far under its Vihaan.AI business transformation programme, including repairing inflight entertainment (IFE) equipment, and putting its Boeing 787 fleet on a performance improvement plan.
The carrier lists several achievements since the launch of the five-year Vihaan.AI plan in 2022. These include committing over $400 million to refurbish aircraft, and the launch of premium economy seats on some long-haul flights.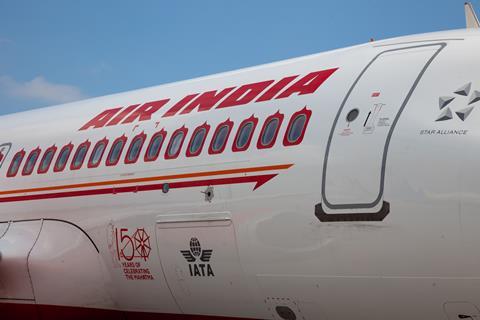 It adds that all long-grounded aircraft have been either returned to service, or decommissioned pending sale, and that RASK has improved by 17% over the course of a one-year period.
Air India has also undergone a major revamp to replace its obsolete IT systems.
"The first six months of our transformation journey has engaged and united Air Indians behind a common cause and made great strides in tackling many issues that had built up over the years," says chief executive Campbell Wilson.
"Our record-setting aircraft order, the commitment of $400 million to completely refurbish existing aircraft, the investment of $200 million in new IT, and the recruitment of literally thousands of staff are but a few of the significant investments being made to restore Air India to the upper echelons of global aviation."
In February, Air India made commitments for 220 aircraft from Boeing, and 250 from Airbus.
IFE systems have been restored to working order "on nearly all first and business-class seats," while IFE now works on "up to nearly 90%" of economy class seats.
The carrier has also implemented spares and support agreements to improve reliability and says there is a "performance improvement programme underway with Boeing to improve 787 reliability."
The next phase of the company's transformation will see low-cost units AirAsia India and Air India Express merged. This follows the successful consolidation of the units' reservation platform, website, and customer facing systems.
The next stage will also see the Tata Group's two full-service carriers, Air India and Vistara, merged following regulatory approvals.