India's government has hit another stumbling block in its years-in-the-making sale of flag carrier Air India.
The timeline for the sale is now uncertain after the government decided against informing bidders today as to whether they had been shortlisted.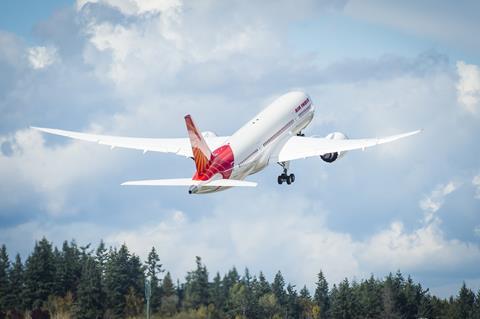 It had previously stated that it would inform qualified interested bidders on 5 January.
However, in an 11th corrigendum published on 30 December, it scrapped that plan and instead said that a transaction adviser would "directly intimate" to selected bidders "in relation to their qualification and the next steps for the proposed transaction". It did not give a timeframe or deadline for when that would happen.
The government said on 14 December, via the Twitter account of the secretary of the Department of Investment and Public Asset Management, that it had received "multiple expressions of interest" in Air India, without giving details.
Privatisation of Air India and five of its subsidiaries was approved in June 2017, but the following year the government failed to attract a single bid for a 76% stake in the carrier.
After that setback, the administration of current prime minister Narendra Modi worked to reduce some of the major stumbling blocks, the biggest being the huge debt load the airline had amassed after years of sustained losses.
In January 2020, the government said it was seeking expressions of interest from investors for the entire share capital of Air India, along with the whole of Air India Express and 50% of its handling joint venture AISATS.
The deadline for bids was set at 17 March 2020 but then pushed back multiple times. In October, the government sweetened the deal by inviting bids at enterprise value, on an equity and debt basis, meaning that the winner would no longer have to absorb debt of Rs230 billion ($3.1 billion).