Liquidators for Air Italy are examining non-binding offers received for the collapsed carrier's assets after a 25 March deadline for submissions of interest.
The Italian carrier pulled the plug on operations last month after shareholders were unable to reach agreement on fresh funding for the struggling operator.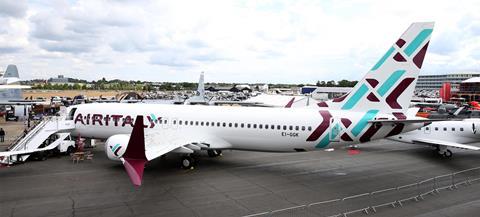 Air Italy, the former Meridiana operation, was rebranded and revamped after Qatar Airways acquired a 49% stake in the operator with a view to developing the business out of Milan Malpensa. The decision to liquidate the carrier was made even before the coronavirus outbreak took hold in northern Italy.
Liquidators on 19 March launched a tender for two packages of assets. That includes an Aviation package, which comprises assets including the airline's AOC, traffic rights and airport slots – but no aircraft. The other package covers assets from its maintenance business.
In a brief statement, liquidators for the Italian carrier say they have received "some" non-binding offers – without specifying either the number of bids or the packages for which they have bid. The liquidators will now "examine them for the appropriate evaluation".