The New Zealand government and Air New Zealand have signed a memorandum of understanding to explore the feasibility of sustainable aviation fuel (SAF) production.
The Star Alliance carrier and the Ministry of Business, Innovation and Employment are looking to run a closed request-for-proposal process, to invite "leaders in innovation to demonstrate the feasibility of operating a SAF plant at a commercial scale in New Zealand".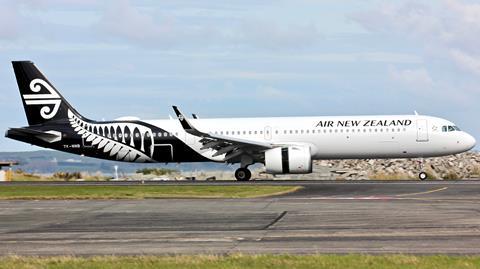 "Commercially producing SAF in New Zealand would not only help lower New Zealand's emissions and reduce waste but will also create jobs and economic opportunities in our regional communities," adds Air New Zealand.
Both parties will also work to address the challenges posed by aviation carbon emissions, as well as build up a SAF industry in New Zealand.
Says David Morgan, Air New Zealand's chief operational integrity and safety officer: "[SAF] is critical to aviation decarbonisation and can reduce aviation emissions by more than 80%. But we can't do it alone. Air New Zealand and [the ministry] have a shared interest in developing a SAF supply chain in New Zealand and we are confident this process will bring us one step closer to it being a reality."
The partnership forms part of Air New Zealand's broader ambitions to decarbonise and achieve net zero emissions by 2050.
It comes more than a week after the carrier announced its cooperation with Airbus to study the feasibility of hydrogen-powered aircraft in New Zealand.