Air New Zealand has rolled out a NZ$2.2 billion ($1.53 billion) recapitalisation package - aimed at boosting its war chest for post-pandemic recovery - as it expects to continue to be loss-making in the near-term.
Announcing the "comprehensive" fundraising scheme on 30 March, the Star Alliance carrier says the package, comprising a mix of share offerings and borrowings, will "help position the airline for recovery".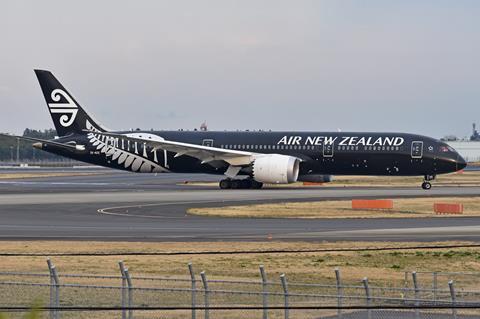 It will raise up to NZ$1.2 billion through a rights offering to current airline shareholders at a discounted rate at the airline's last market price.
The airline will issue NZ$600 million in special shares to the New Zealand government, as well as raise about NZ$400 million by way of government loans.
Of the amount raised, Air New Zealand expects to use about NZ$850 million to repay existing government loans, and around NZ$950 million to strengthen its balance sheet and shore up liquidity. A further NZ$400 million will remain undrawn for now, the carrier adds.
Airline chair Therese Walsh says: "While there will still be bumpy skies ahead over the next few years, the moment is right for Air New Zealand to raise equity, recapitalise its balance sheet and repay the loan it received from the Crown during the Covid-19 crisis. This is an important step in refuelling for our recovery."
'FURTHER LOSSES' EXPECTED
Separately, Air New Zealand also cut its loss forecast for the year to 30 June, but warns that recovery outlook - particularly for international travel - remains uncertain.
For the year to 30 June, the carrier now expects to report a loss before other significant items and taxation of less than NZ$800 million. This compares to the estimates disclosed in late-February, which puts losses in excess of NZ$800 million.
The carrier also expects to turn cash-positive by the second-half of this year.
It notes that the recent government announcement on full border reopening was welcome news, but is likely to not materially impact its earnings.
"Recent clarity on timing for unrestricted travel into New Zealand is helpful, however it is unclear how demand for international air travel will recover," the carrier states.
It warns that it could remain in the red for the near term: "[Further] losses are expected to be incurred in the near-term with the amount of the losses subject to the level and pace of the return of demand."
In presentation slides to announce the recapitalisation package, the airline also outlines its targets for the financial year starting 1 July 2024.
By then, it expects capacity to be about 90% that of the 2019 financial year, with a marked shift towards domestic and short-haul flight.
Capacity ramp-ups in the coming year or so will be driven by short-haul and domestic flying, with only a "gradual" increase in long-haul operations expected.
From late-2023, the airline expects international long-haul to return, though it will "reorientate" capacity with a "smaller, more efficient fleet" focusing on North America and key Asian routes.