Air Serbia will next month begin codesharing with Gulf carrier Qatar Airways, building on an existing interline agreement.
The Serbian carrier, which has just indicated it returned profit last year, will from the start of February add its code to Qatar Airways' five-times-weekly service between their respective hubs in Belgrade and Doha.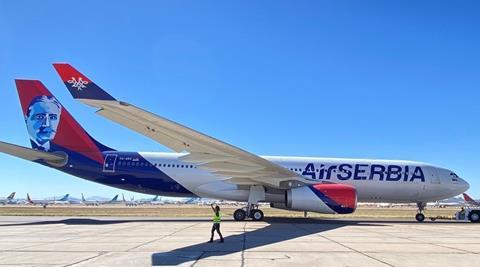 It will initially codeshare on Qatar's onward flights to Adelaide, Baku, Brisbane, Tbilisi, Ho Chi Minh City, Hong Kong, Melbourne, Muscat, Nairobi, Perth, Seychelles, Singapore and Sydney. Further connections are lined up as part of the co-operation.
Qatar for its part will codeshare on Air Serbia destinations including flights to Bosnia and Herzegovina, Montenegro and Slovenia.
Air Serbia has a long-standing codeshare with another Gulf carrier Etihad Airways, which helped revamp the carrier in 2013 as part of its equity-alliance strategy. Etihad has since reduced its stake in Air Serbia to around 16% after the government increased its stake during recapitalisations carried out since the pandemic hit.
Air Serbia yesterday revealed preliminary figures showing it returned to the black for the first time since the pandemic last year, posting a profit of €21 million ($23 million) for 2022. That was achieved on passenger numbers of around 2.75 million, just 2% below 2019 levels.
Air Serbia chief executive Jiri Marek says: "I am immensely happy with the good financial result achieved last year, which is already visible, because this is the real indicator of our company's ability to react quickly and recognise opportunities for recovery and growth. This result comes after two extremely difficult years, not only for our company, but for the entire commercial aviation sector globally.
"We have ambitious plans for this year, some of which we have already announced," he adds. This includes the launch of flights to Chicago in May, marking its second US destination after New York JFK and the restoration of a route last flown 30 years ago.