Air Serbia has disclosed its repayment of a $57.6 million loan from special-purpose vehicle EA Partners.
A total of $1.2 billion of debt was issued by EA Partners in 2015 and 2016 to Etihad Airways, Etihad Airport Services and airlines in which Etihad owned minority stakes, including Air Berlin, Jet Airways, Air Seychelles, Air Serbia and Alitalia.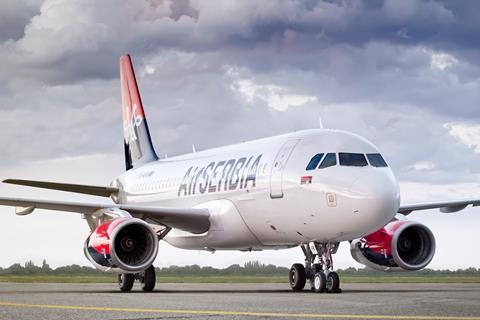 Cirium understands that Etihad Airways and Etihad Airport Services have also paid all amounts due to EA Partners.
Earlier this year, bondholders proposed extending the repayment period by up to three years in exchange for a commitment from the borrowers that they would meet their obligations. The bonds are due to mature in September 2020 and June 2021.
In a 29 September statement, Air Serbia says it has "settled all of its remaining obligations towards EA Partners", amounting to $57.62 million. The airline, which is 51% owned by the Serbian state and 49% by Etihad, adds that it "managed to provide the funds for the payment of the liabilities independently".
The carrier also reveals that it is in "active talks" with other creditors and suppliers in the hope that it can reach an "acceptable solution" as it navigates a "very complex" operating environment amid the Covid-19 pandemic, as air traffic recovers "much more slowly than anticipated".
Cirium fleets data shows that Air Serbia's in-service aircraft include eight Airbus A319s, one A320, one A330-200 and five ATR 72 turboprops. All of the Airbus narrowbodies are managed by lessors, including Avolon, Aero Capital Solutions and WNG Capital, while the carrier's A330 is sub-leased from Etihad. Air Serbia owns all three of its ATR 72-200s and leases its two ATR 72-500s from Nordic Aviation Capital.
"The payment of this loan is proof of sound and responsible management of Air Serbia before and during the crisis, and during the recovery from the consequences of the pandemic," states Air Serbia chief executive Duncan Naysmith, adding that while passenger traffic was suspended the carrier "started a series of programmes aimed at working with business partners, implementing austerity measures and maintaining liquidity".
This article has been updated to clarify details of the structure, and to correct the list of lessors in the second-last paragraph