AirAsia has agreed terms on the sale of a 32.7% stake in joint venture carrier AirAsia India to the carrier's existing co-shareholder Tata Sons.
The Malaysian low-cost carrier, which established the Indian joint venture carrier together with Tata in 2014, holds a 49% stake in the airline.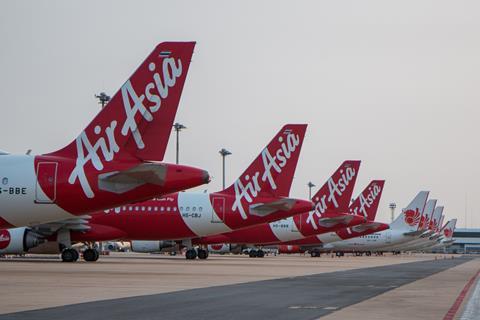 In a stock market statement today, AirAsia says it has struck a deal with Tata covering the sale of the stake for $37.7 million. It aims to complete the sale by the end of March 2021.
AirAsia says the stake sale is part of efforts to raise capital and focus its activities as it bids to ride out the Covid crisis.
"The directors expect further capital requirements for AirAsia," it says in detailing the rationale for the sale. "As India is a non-core market for AirAsia (being a non-ASEAN country), the company will continue to regularly re-assess its business strategies and dispose of non-core investments to augment its liquidity.
"This transaction will reduce cash burn of the company in the short term and allow AirAsia to concentrate on recovery of its key ASEAN markets in Malaysia, Thailand, Indonesia and the Philippines in the long run," it says.
The acquisition takes Tata's stake in AirAsia India to 83.7%. Under the agreement, it also holds a call option on AirAsia's remaining 16.3% share in the carrier, exercisable at any time after the initial transaction is completed for $18.8 million.