Malaysia's Capital A has outlined the rationale and vision for its new Southeast Asian joint venture carrier, AirAsia Cambodia.
Capital A observes that in the two decades before the coronavirus pandemic, Cambodia boasted very strong economic growth rates, averaging 7.7% annually between 1998 and 2019. It also notes that it was Southeast Asia's eighth biggest aviation market, with strong capacity growth.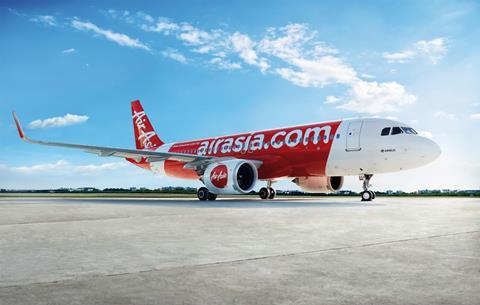 Capital A outlined its thinking for AirAsia Cambodia in a stock market announcement. On 9 December, Capital A's aviation unit, AirAsia Aviation Group (AAAGL), announced the joint venture, which will be 51% owned by AAAGL and 49% by local firm Sivilai Asia.
"AirAsia Cambodia aspires to be the largest airline in Cambodia," says Capital A.
"AirAsia Cambodia plans to operate mostly to AAAGL's existing stations within the 4 hour radius from Cambodia to leverage scale and brand presence while minimising setup costs. AirAsia Cambodia will increase Cambodia's network offerings by launching new services to Asian destinations lacking connectivity from Cambodia today, which will help diversify Cambodia's network connectivity and create more links within the region and beyond."
AAAGL anticipates that its minimum investment level in the near carrier will be $25 million, which will come from internal funds.
The decision to set up the joint venture follows a feasibility study by AAAGL. It says that the joint venture is the "natural next step" for the group because a local air operator's certificate will establish the AirAsia brand in Cambodia and the Indochina region.
Pending regulatory approvals, Capital A reiterates that the joint venture aims to start operations in the second half of 2023.
Cambodia's airline sector is small and fragmented. According to Cirium fleets data, the country's seven airlines have a combined fleet of just 20 aircraft. The largest carrier is Cambodia Airways with six Airbus A320 family jets, followed by Cambodia Angkor Air with three A320 family jets and two ATR 72-500s
Basasaka Air, Lanmei Airlines, and Sky Angkor Airlines have two A320 family jets each, while JC International Airlines has a single A320. In addition, Cambodia Bayon Airlines is listed as having a pair of Xian MA60s in storage.
AirAsia Cambodia will join AirAsia Malaysia, Indonesia AirAsia, Thai AirAsia, and Philippines AirAsia as members of AAAGL.