AirAsia Aviation Group has sold its remaining shareholding in its Indian unit to Tata Sons-owned Air India, in a move that likely paves the way for an eventual merger with Air India's low-cost unit, Air India Express.
The share purchase agreement will see AirAsia divest its 16% stake in AirAsia India to Air India, a statement on 2 November says, bringing Tata's stake up to 100%.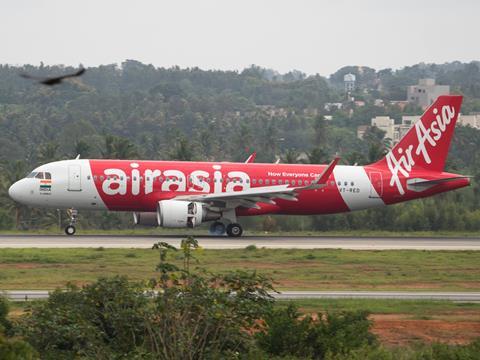 The divestment comes after Tata filed an application with the country's antitrust authorities to acquire full control of the low-cost carrier earlier this year.
Since Tata successfully acquired Air India from the Indian government, analysts have suggested that it will merge AirAsia India with Air India Express, and Vistara – its full-service joint venture with Singapore Airlines – with Air India.
AirAsia says it will now focus on developing its four other airline operations, in Malaysia, Thailand, Indonesia and the Philippines. A fifth unit, understood to be based in the Indochina region, is pending launch.
AirAsia Aviation group chief Bo Lingam says the share sale is "not the end of our relationship" with Tata, but "the beginning of a new one as we explore new and exciting opportunities to collaborate and enhance our synergies moving forward".
"India will remain an important market for AirAsia and will continue to be served by our various airlines," he says. "We will use the experience and knowledge we have gained from operating in the Indian domestic market to grow the [Southeast Asia]-Indian market in logistics and passenger services to a far greater extent."
Cirium fleets data shows Bengaluru-based AirAsia India operates a fleet of 28 Airbus A320ceos on domestic routes.