AirAsia Group expects to see a rise in travel demand — including on international routes — from key markets as governments ease border restrictions.
The low-cost group says recent announcements from governments in Thailand and Malaysia to resume allowing fully-vaccinated travellers to enter quarantine-free bode well for travel demand.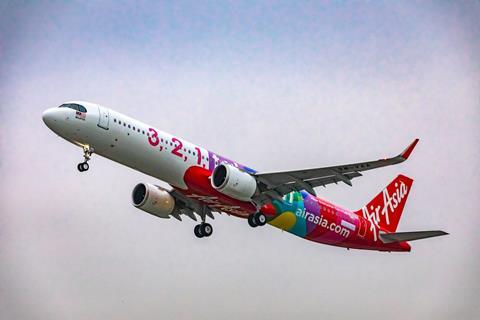 The forecast comes as the group released its traffic data, which points to a mixed recovery trends across its airline units.
Two of the group's four airline units — in Malaysia and the Philippines — reported growth in traffic for the quarter ended 31 December, helped by the easing of borders and robust travel demand in the year-end.
In Malaysia, AirAsia saw passenger numbers rise two-fold to around 2.2 million, with capacity almost more than doubling and traffic recording a three-fold increase.
As for the Philippines, the carrier saw passenger numbers treble to around 355,000 passengers, while capacity and traffic doubled against the same quarter in 2020.
AirAsia's Thailand and Indonesia units, however, saw a fall in quarterly traffic amid tepid recovery in their markets following a lethal wave of coronavirus infections.
AirAsia Thailand carried 1.15 million passengers in the quarter, down 59% year on year. Traffic and capacity for the quarter were both down 67% year on year.
In Indonesia, AirAsia saw passenger numbers fall 57% in the quarter to just over 168,000 passengers. Traffic fell 52%
Indonesia AirAsia was the only carrier to see a drop in passenger numbers during the quarter: a 57% decrease year on year to around 169,000 passengers. Traffic fell 52% while capacity plunged 65% year on year.
For the full year, group traffic was down year on year, but AirAsia notes that load factors have held steady — at 74% — thanks to "strategies implemented to manage the multiple disruptive lockdowns imposed by respective governments".
"The improved monthly performance of passengers carried and additional capacity across the group indicate a V-shaped resumption trend in air travel demand throughout 2021," it adds.